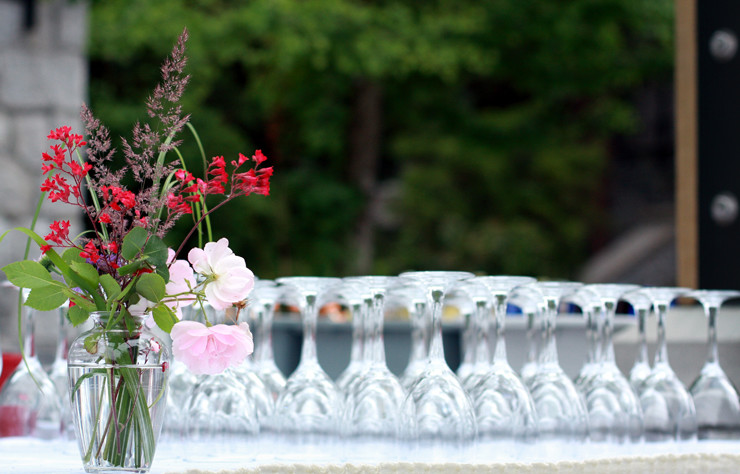 Rates
Please note that sample prices listed on this website are applicable for internal UBC bookings only.
External groups should inquire about availability and rates. Contact gc.events@ubc.ca for more information.
For sample menus and prices, click here.
---
Catering Exclusivity
The Green College Dining Society (GCDS) Executive Chef caters all in-house functions (no external food or beverages of any type can be brought on site). In accordance with BC Health code, the GCDS is responsible for all food and beverage consumed on the premises. No other catering providers can be used without the express permission from the Executive Chef of the GCDS. Our liquor license stipulates that all alcohol must be purchased via the GCDS (see Bars and Alcoholic Beverages below).
Facilities are available to rent by UBC units only. Bookings for catered wedding events (such as receptions or dinners) may only be made by current or society members of Green College. Catering bookings are subject to availability.
---
Bars and Alcoholic Beverages
As dictated by Provincial Liquor Legislation, all alcoholic beverages served on Green College licensed premises must come from inventory purchased by The Green College Dining Society from the B.C. Liquor Control Board. You may take home excess bottles of wine, if sealed by the GCDS. Other alcoholic beverages may not be removed from the premises.
---
Hosted Bar
The host pays for the bar beverages consumed during the event as well as bartender labour charges;
Prices are subject to applicable taxes and gratuity;
Beverage tickets are available upon request.
---
Cash Bar
Guests purchase their own beverages;
The host pays for bartender labour charges only;
Beverage prices include applicable taxes and gratuity;
Food must also be served.
---
Custom Menus
We are happy to create menus to accommodate vegetarians, persons with food sensitivities and allergies, as well as theme menus to suit your occasion. Because the GCDS Kitchen is not a nut-free kitchen, we cannot guarantee that any dish will be free of nut products.
Clients may on occasion be allowed to provide their own wedding cake or dessert, after obtaining GCDS approval. A plating fee will apply. Neither Green College nor the Green College Dining Society is responsible for any health risks posed by the consumption of outside products.
---
Payment
An invoice for each catered event will be issued after the event. Payment should be made to the Green College Dining Society.
The Green College Dining Society accepts cheques, credit cards (Visa or MasterCard) and debit cards.
---
Additional Fees and Taxes
Taxes and gratuity are charged according to the following schedule:
Food: 5% GST, 18% gratuity
Beer/Wine: 12% GST + PST-liquor, 18% gratuity
Other: 12% GST + PST
Labour (service) charges will be added to your quote where applicable, at $30.00 per hour per server or bartender (minimum four hours).
---
Catering Quote
After discussing catering options and menus with the College's Event Coordinator (at gc.events@ubc.ca), you will receive a Catering Quote document by email.
Due to the time needed to plan, order and prepare your event with the Green College Dining Society, the Catering Quote document must be signed and returned a minimum of 14 days before your event. If the Catering Quote is not returned by this deadline, the Green College Dining Society may not be able to provide the catering as requested.
---
Guarantee of Guest Count and Minimums
No later than seven days before the event, provide the Green College Event Coordinator with an estimated number of guests;
No later than three business days before the event, inform Green College of the guaranteed number of guests, which must be no more than 5% greater/lesser than the estimated number;
The College will bill based on the guaranteed number or the actual number of attendees, whichever is greater.
---
Event Changes and Billing
If there are special requests on the day of the event (increased guest count, meal alterations, etc.) and the GCDS can accommodate these changes, your final bill will be adjusted to reflect these changes.
---
Cancellation Notice
Cancellations made after the quote is signed will be billed a cancellation fee. The cancellation fee is a percentage of the quoted total amount, according to the following schedule:
After quote is signed and more than seven days before event: 10%
48 hours to seven days before event: 50%
Less than 48 hours before event: 75%