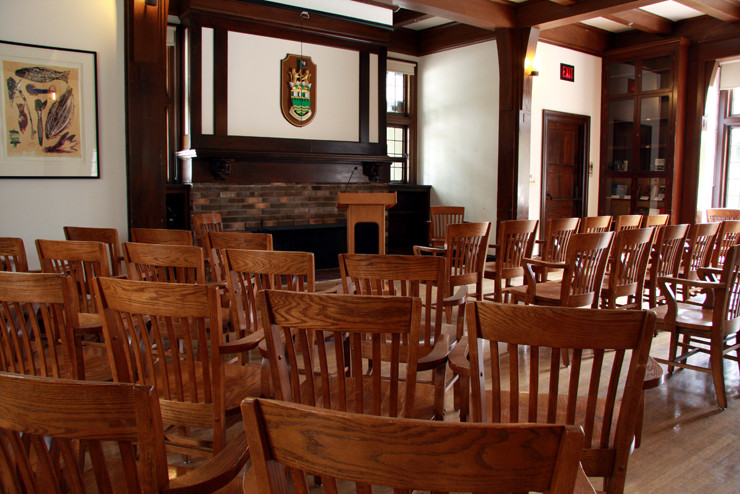 Interested in hosting an event at the College? Our unique character spaces will enhance any function. We are proud to host a range of retirement parties, retreats, conferences, workshops, and receptions.
Have a look at our rooms and services—and envision your event on our stunning grounds.
Rooms
Coach House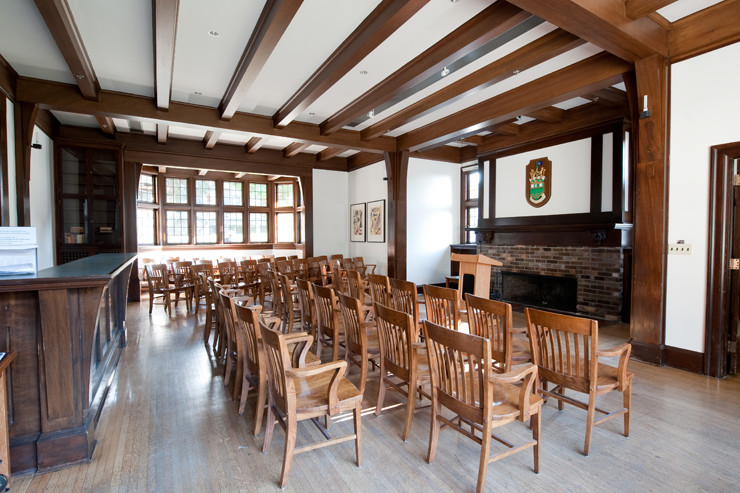 The Coach House is the site of most public lectures that take place at the College, and is typically a busy place on weeknights during the two terms of the main academic session.
Its lecture-style set-up makes the Coach House an ideal event venue for external bookings. Whether it's a talk, a performance, or a book launch, the Coach House is a multi-purpose venue.
When the room is not reserved for events, residents are welcome to use the Coach House as an additional study space or for informal gatherings. Residents who wish to book the room for an organized event may do so by submitting the request to the College's Event Coordinator through the appropriate Resident Committee.
Residents with ideas for academic events that could be of interest to non-residents are invited to contact the Principal.
| Set-up | Capacity |
| --- | --- |
| Lecture seating (standard set-up) | 80 people |
| For other room set-up requests other than lecture seating, please contact the Event Coordinator. | |
Reception Rooms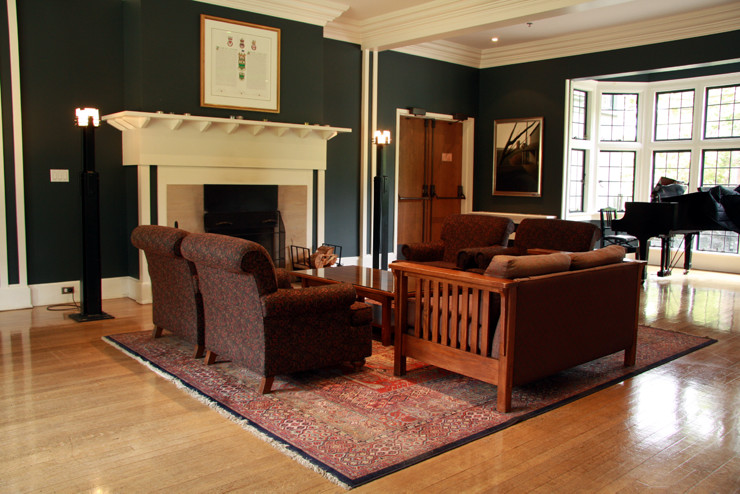 The main space on the ground floor of Graham House is divided into two reception rooms: the Piano Lounge and the Billiards Room.
Residents and guests are welcome to use both the piano and billiards table in these areas or simply to use the rooms as places to chat or enjoy some quiet time.
There is a wood-burning fireplace in the Piano Lounge, which creates an intimate ambiance for informal academic or social events during the winter months.
Coffee and tea service is available in the Piano Lounge from 10 am-5 pm from Monday to Thursday (Fridays 10 am-noon). All residents, staff, and visitors are welcome to help themselves to coffee or tea.
| Set-up | Capacity |
| --- | --- |
| For stand-up reception events (standard set-up) | 75 people |
| When combined with the Billilards Room | 150 people |
William C. Gibson Room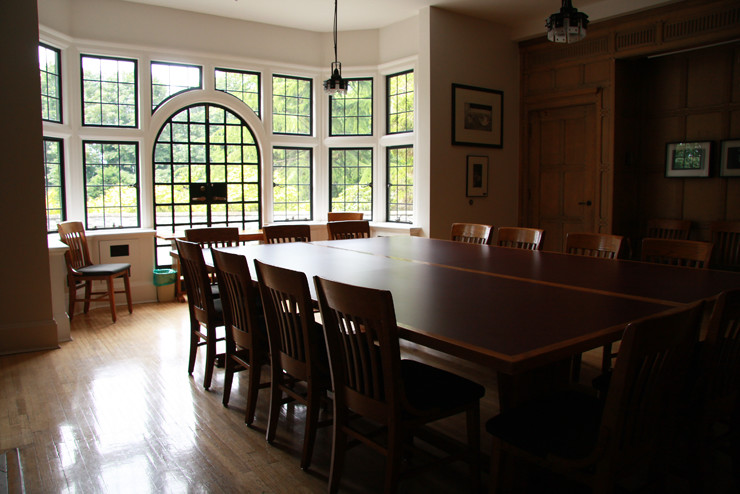 The William C. Gibson Room is on the ground floor of the historic Graham House. The room is the perfect size for a small business meeting or conference and overlooks the lush gardens.
| Set-up | Capacity |
| --- | --- |
| Boardroom (standard set-up) | 18 people |
| Dining (banquet-style with tables separated) | 24 people |
Lower Patio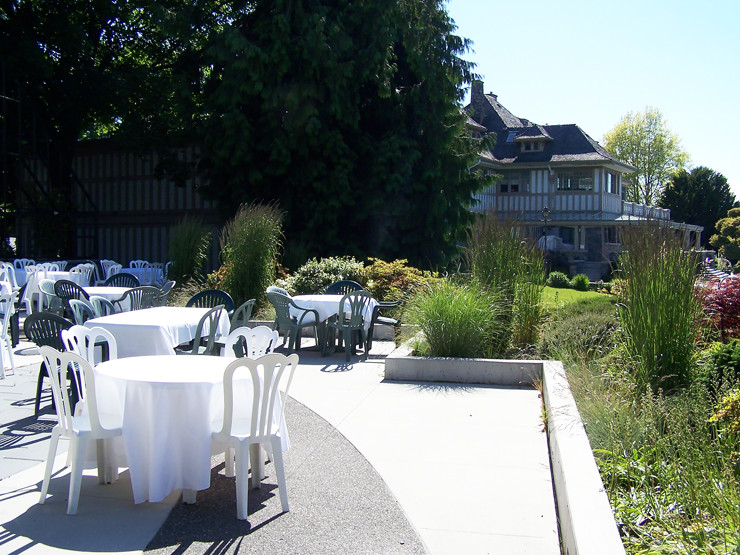 Overlooking tranquil gardens, Cecil Green Park House, Pacific Ocean, and North Shore Mountains, the Lower Patio is a picturesque location for your next outdoor event. In addition to taking in the natural views, enjoy looking up at the magnificent Graham House.
Great Hall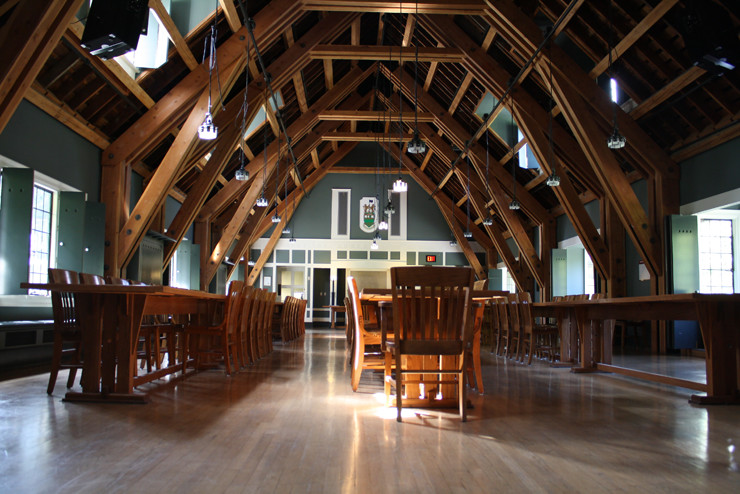 The Great Hall is an exceptional venue for large groups to book for special dinners and lunches, from holiday and retirement parties to conference meals.
Located on the 2nd floor of Graham House with both elevator and stairway access, the Great Hall can: accommodate up to approximately 150 people for served and buffet dinners and lunches, or large receptions. Three rows of four rectangular tables that seat up to 12 people each are a standard feature of the room (alternative set-ups may be possible—please inquire).
The room has:
a built-in projector screen
podium facility with connected audio and projected system (two ceiling-mounted speakers and corded microphone)
Windows along the north and south walls give a view to the College on one side, and to ocean, mountains and College gardens on the other.
The Great Hall is typically available when not in ordinary use by the College Resident Members:
Friday all day after 10:30 am
Saturday all day
Sunday to Thursday from 10:30 am-4:30 pm
Washrooms are located on the two floors below in Graham House, and a wired internet connection is available (in addition to UBC's wireless network access).
| Set-up | Capacity |
| --- | --- |
| Dining (standard set-up) | 120 people |
| Dining (tables separated for a total of 12 tables) | 144 people |
| For other room set-up requests, please contact the Event Coordinator. | |
---
Event Services
For more information or to inquire about venue bookings and/or catering please contact:
Green College Event Coordinator at 604.822.1878 or gc.events@ubc.ca.