Green College regularly hosts extended residencies for Canadian, Indigenous and international activists, architects, artists, composers, journalists, scholars, writers and others. Invitations to all Green College Invited Residencies are subject to a formal application process, and are initiated by a nomination by a UBC faculty member.
For more information, please contact gc.programs@ubc.ca.
---
Current Residencies
John Grace Memorial Animator in Residence: Sara Barackzay
Sara Barackzay has spent much of her short life fighting to overcome the many obstacles faced by an Afghan girl. "Afghan women try so hard—maybe even harder than others—to reach their goals. It's one of the messages I want to communicate through my art," Sara said in a 2021 interview with The Guardian. "I always had big dreams but fighting for them was never easy. Afghan women continue to face many limitations, and gaining my own freedom is possibly the biggest challenge I've faced—it's a struggle that continues. I am still finding my way."
Born in 1999 under the savage rule of the Taliban, a severe illness left Sara deaf before the age of two. Too young to have mastered speech, she was imprisoned by a profound silence. War raged in the surrounding hills, and while Sara didn't hear the gunfire and bombs, she felt the ground shake and saw the fear in her parents' eyes. At five, Sara began following her older sister to a secret school where the village girls were taught to read and write. But Sara couldn't speak, and she knew she was different. She loved books and read the pictures in the same way she read the world around her, through the visual images of animals, insects, plants and people. She drew on her dolls, on pieces of wood, on stones. She spoke to the world with her art. That year, with patience and kindness, her father taught her how to also speak with words. In less than a year, she was talking, and at eight, Sara received hearing aids. At ten, she became a professional at painting and drawing, and started to teaching art to other girls in her village.
Completing high school at fifteen, Sara received a full scholarship to study physics in Turkey. A passionate artist since she had first held a pencil, Sara switched her studies to animation, and graduated with honors. While in university in Turkey, Sara created online and face-to-face animation courses for Afghan girls, returning to Herat each summer to teach. Despite threats from the Taliban and others, Sara established the Afghan Girls Animation Team during this time. In 2020 then-president Ashraf Ghani proposed that she move to Kabul to create a School of Animation. In early 2021, Sara fled to Iran after the Taliban threatened to kill her family if she continued to make art and teach girls. With the help of a dedicated group of supporters, Sara reached Canada in September 2021.
Sara's art has been exhibited around the world including in Afghanistan, Germany, Turkey, India, Australia, Canada and the US. She has illustrated children's books for UNICEF and private publishers, and her designs have been featured on Afghan clothing. She taught physics and art at the Afghan Turk Girls' School in Herat and was a mentor for the Afghan Girls' Robotics Team. Sara has been interviewed by The Guardian, El Pais, and the Khaleej Times, and her art and story have appeared in over twenty international periodicals.
John Grace Memorial Holocaust Historian in Residence: Nataliia Ivchyk
Dr. Nataliia Ivchyk is a Holocaust scholar active in the field of public history and memory politics. She is an Associate Professor in the Department of Political Sciences at Rivne State University for the Humanities in her hometown of Rivne, Ukraine. Together with Maksym Gon (a history professor currently serving in the Ukrainian Army) and Petro Dolhanov, Nataliia co-founded and is a project manager of NGO "Mnemonics,'' an organization devoted to citizenship education and the memory of the multicultural history of the Rivne region. In 2022, NGO "Mnemonics" was awarded by The Munich Documentation Center for the History of National Socialism prize for the commemoration of the violent history of the twentieth century.
Nataliia's research examines gender and children's experience during the Holocaust as well as memory politics in Ukraine and East Central Europe. She has held a number of international fellowships. Her recent research projects include: "Disgraced Worlds: Jewish Families during the Holocaust" (European Holocaust Research Infrastructure, July 2022), "Gender and Everyday Life in Volhynia and Podolia Jewish Ghettos" (Prague Civil Society Center and Charles University in Prague, Czech Republic and the Leibniz Institute for East and Southeast European Studies, Germany, 2021) "Life and Agony of the Jews in the Rivne Ghetto: Reconstructing Women's Experiences" (Yad Vashem, Israel, 2018) and "Ghettos in the General District of Volhynia and Podolia in Memories of Jewish Victims and Neighbors" (United States Holocaust Memorial Museum, 2017-18). Her most recent publications include monographs titled Insulted Otherness: Ethno-Confessional Policy of the Russian Empire in Right-Bank Ukraine, 1850-1880 and The Town of Memory – the Town of Oblivion: the Palimpsests of the Memorial Landscape of Rivne (as a co-author), which addresses the gendered aspect of the symbolic space of Rivne.
When the Russian Federation attacked Ukraine in February of this year, Dr.Ivchyk was in Romania with a group of students. They were taking part in an EU-funded program on civic education and European identity for two weeks. After a while, she made her way from Romania to Prague and back home to Rivne.
Thanks to Dr. Serhy Yekelchyk from the University of Victoria, she was connected with UBC professors Dr. Richard Menkis and Dr. Heidi Tworek, and the Scholars at Risk network. After several months of planning she arrived in Canada, from Ukraine through the Czech Republic and Germany. Nataliia is joining UBC's Department of History as a Visiting Scholar for 2022-23. During this time, she's planning to conduct research at the VHEC, and she will also teach a course in summer 2023 (HIST 402: "Problems in International Relations"). Nataliia is the John Grace Memorial Holocaust Historian in Residence at Green College through the 2022-23 academic year.
19th Green College Writer in Residence: Colleen Murphy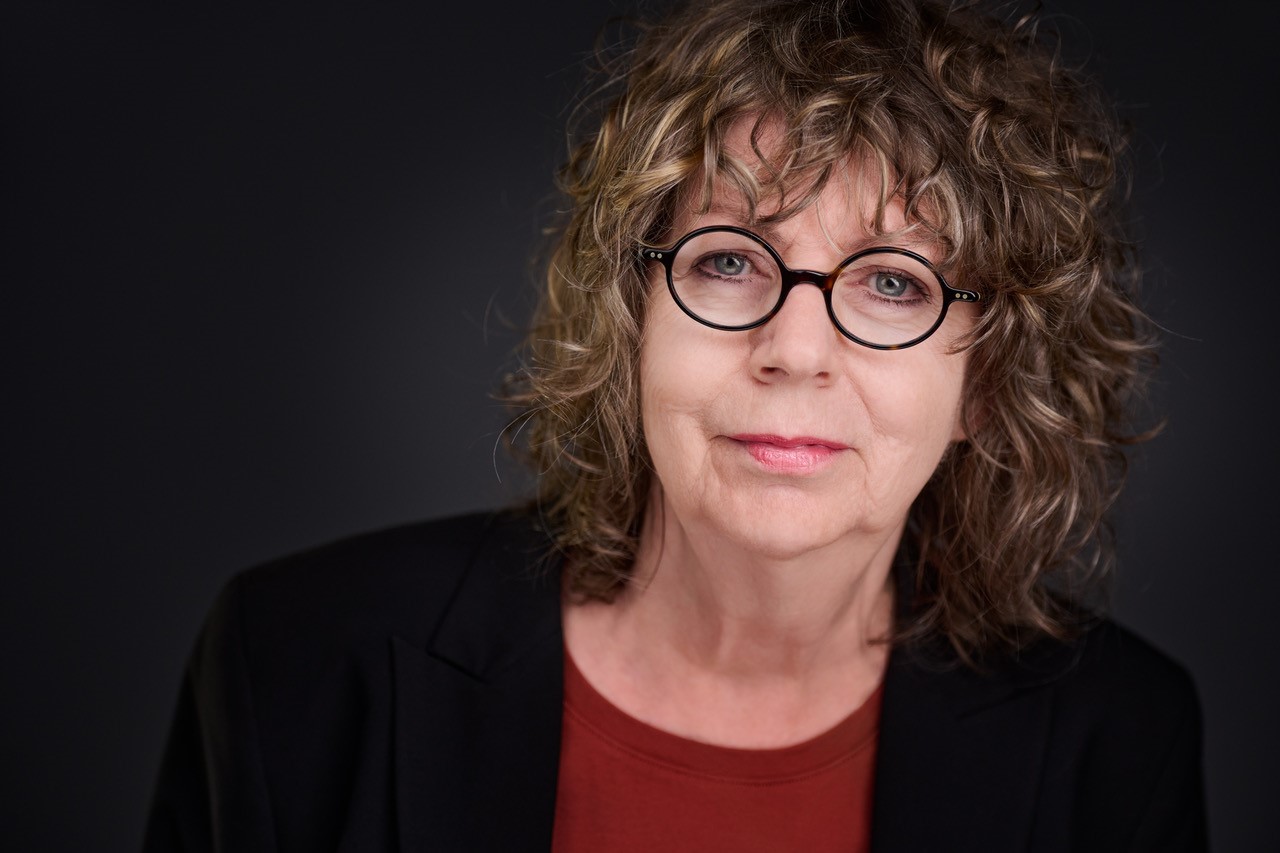 Colleen Murphy is a two-time recipient of the Governor General's Literary Award for Drama, and the Carol Bolt Award for Outstanding Play, for Pig Girl in 2016, and The December Man / L'homme de décembre in 2007. Other plays include The Society For The Destitute Presents Titus Bouffonius (winner of six Jessie Richardson Awards including Outstanding Production and three Elizabeth Sterling Awards including Outstanding Production), The Breathing Hole (shortlisted for the Susan Smith Blackburn Prize, U.S., and the Carol Bolt Award), Armstrong's War, The Goodnight Bird, The Piper and Beating Heart Cadaver (shortlisted for the Governor General's Literary Award for Drama). Libretti include Fantasma, with composer Ian Cusson, for the Canadian Opera Company, Oksana G., with composer Aaron Gervais, for Tapestry Opera, and My Mouth On Your Heart, with composer August Murphy-King, for Toy Piano Composers and Bicycle Opera. Colleen is also an award-winning filmmaker and her films have played in festivals around the world.
She has been Playwright-in-Residence at Finborough Theatre in London UK; Necessary Angel Theatre and Factory Theatre in Toronto, and at the University of Regina. She's been the Mabel Pugh Taylor Writer-in-Residence at McMaster University; Writer-in-Residence at the University of Guelph; Edna Staebler Laurier Writer-in-Residence at Wilfrid Laurier University; Lee Playwright-in-Residence at the University of Alberta, and Writer-in-Residence at the University of New Brunswick. She teaches at playwriting at Queen's University in Kingston, Ontario.
——
CANCERS OF THE IMAGINATION is the title given to Colleen Murphy's residency at the College. During this time, she will curate and host a series of three public events presenting guest writers who will read from their work and take part in discussions about how and why they create the characters and stories that they create.
Event Dates and Speakers:
Wednesday, February 15 (Marcus Youssef, Artistic Director, Playwright and Author);
Thursday, March 2 (Speakers TBA); and
Tuesday, March 28 (Carmen Aguirre, Author, Actor and Playwright; and Stephen Drover, Director, Dramaturge and Teacher)
"Characters are, perhaps, those parts of shadow or independent vitality within the psyche which the poet cannot integrate to his own person. They are cancers of the imagination insisting on their right to live outside the organism from which they are engendered (how long could a man endure with an Oedipus or a Lear locked inside him?) But whatever their relationship to the source of invention, dramatic personages assume their own integral being."
--George Steiner, The Death of Tragedy
George Steiner (1929-2020) was an acclaimed author, critic, and professor. Colleen finds his book The Death of Tragedy insightful, particularly in the creation of characters for drama. Although Steiner believed that tragedy as a dramatic form was no longer possible after the Holocaust, his insights into the form continue to reverberate and inspire. As a playwright, Colleen Murphy is fascinated by what compels writers to create characters that are familiar to them, or characters not familiar to them. What attracts us to the secrets of our own lives, or to the secrets of other peoples' lives? What grows out of our bodies and minds? During her residency, Colleen is writing a play Growing Up Dead. Set in the late 21st century, it dramatizes how the climate emergency kills young people long before they die. What does living in a desiccated ghost suburb in 40 degree heat do to 10-year-old Ruby and her mother? Desperate people do desperate things. Over the course of a scorching hot day, betrayal will wreck Ruby's life...but what will she discover in the wreckage? Will she sing while everyone around her is screaming?
Colleen Murphy will be at Green College for three months, from mid-January to mid-April, 2023.
Yosef Wosk Indigenous Fisheries Scientist in Residence at Green College: Andrea Reid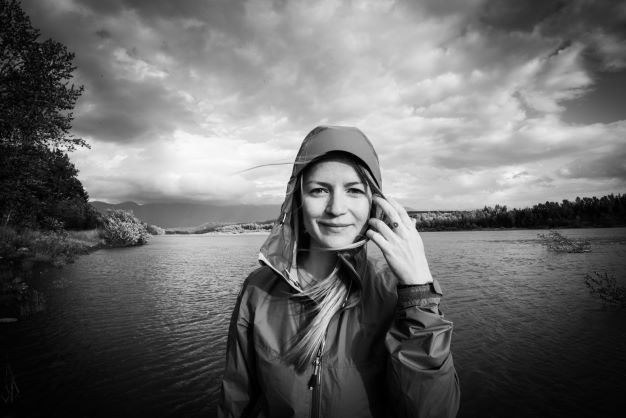 Dr. Andrea Reid is a citizen of the Nisg̱a'a Nation and an Assistant Professor with the University of British Columbia's Institute for the Oceans and Fisheries. She has launched and is leading the Centre for Indigenous Fisheries, working to build an inclusive hub for the study and protection of culturally significant fish and fisheries. She is an Indigenous fisheries scientist who employs community-based approaches and Indigenous research methodologies. Her freshwater and coastal research creates space for fishers, knowledge keepers, youth and other community members to be full partners in the research process. Together, they investigate: leading threats to aquatic ecosystems and their interactive effects for fish, people and place; consequences of fisheries-related stressors for fish and methods to ameliorate survival; Two-Eyed Seeing approaches to assessing aquatic ecosystem and fish health, and evaluating associated changes through time and space; and Indigenous understandings and methodologies for effectively stewarding fish and waterways.
Andrea Reid completed her BSc and MSc at McGill University, and her PhD at Carleton University, which centered on multiple stressor effects on wild Pacific salmon using tools and insights from Western and Indigenous sciences in tandem. This dissertation was recognized with the Governor General's Gold Medal and University Medal for Outstanding Graduate Work at the Doctoral Level in 2020. Reid is also a cofounder of Riparia, a Canadian charity that connects diverse young women with science on the water to grow the next generation of water protectors, a National Geographic Explorer and a Fellow of The Explorers Club.
---
Current Residency Programs
John Grace Memorial Visitors in Residence
Thanks to a gift from Patricia Merivale, Professor Emerita of English at UBC, made in memory of John Grace (1943-2021), who as Dean of Graduate Studies oversaw the foundation of Green College, the College is in a position to support visiting scholars, writers, artists, musicians, journalists, social activists and other kinds of practitioners who take up residence at the College, sharing fully in the intellectual and social life of the community, for a period of at least four consecutive weeks. Such visitors are known by the title of "John Grace Memorial [role] in Residence." The program was inaugurated in 2021-22 by Sara Barackzay as the John Grace Memorial Animator in Residence.
Meredith and Peter Quartermain Poet in Residence
Following the donors' wishes, this fund is used to support poets and others with an interest in poetry who are appointed as Writers in Residence at Green College. Preference is given to appointees from underrepresented communities, such as but not limited to persons who identify as women, people of colour, Indigenous or LGBTQ+. It is intended that, over time, appointees will come from a wide range of backgrounds. The role of Quartermain Poet in Residence at the College was inaugurated in 2021-22 by Margaret Christakos.
Writers in Residence
The role of Writer in Residence at Green College was inaugurated in 1999 by Lynn Coady. Since its inception, the College has hosted several talented writers for a one term stay.
Past Writers in Residence:
---
Past Residency Programs
The Supreme Court Justice in Residence
The Supreme Court Justice in Residence program was inaugurated in the 2000-2001 academic year. Under this program, a Supreme Court Justice would visit the College for one week, offering talks and participating in College events and activities.
The Liu Institute Visiting Fellow in Residence at Green College
The Liu Institute for Global Issues and Green College hosted an influential scholar, activist, artist, leader or practitioner to locate at the Institute for a four-month period (from September to December or January to April), in order to participate in the intellectual and social life of a graduate residential college with a mandate for interdisciplinary studies. The position aimed at facilitating problem-based interdisciplinary research on global issues.
Past Liu Institute Visiting Fellows in Residence include:
| | |
| --- | --- |
| 2014-2015 | John Krige, Kranzberg Professor of History, Technology and Society, Georgia Institute of Technology |
| 2013-2014 | Chris Dolan, Director of the Refugee Law Project, Makerere University |
| 2012-2013 | Mojtaba Mahdavi, Political Science and Middle East Studies, University of Alberta |
| 2011-2012 | May Haddad, Social Activist and Physician |
| 2010-2011 | Wynet Smith, Coordinator and Natural Resources Expert, United Nations Security Council of Experts on Liberia (S/RES/1903 [2009]) |