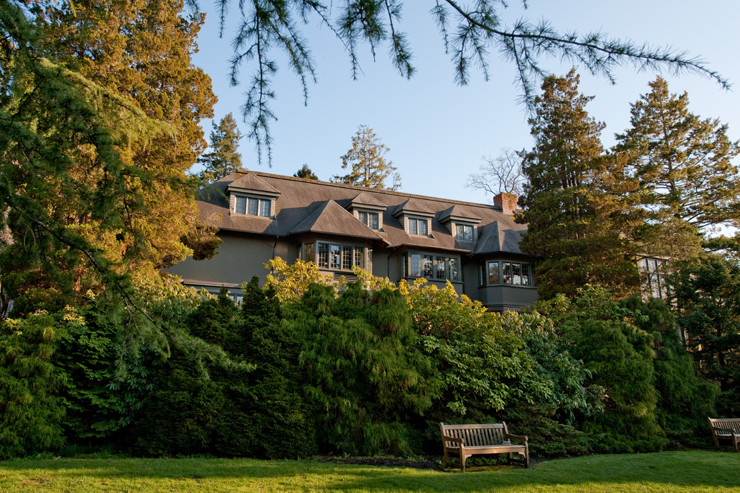 Whether your stay is for a few days or several months, Green College is a scenic short-term guest accommodation option for faculty, researchers or special guests visiting UBC on academic business. It's also an excellent choice for students attending short courses, conferences and workshops.
Green College offers a peaceful yet vibrant environment just minutes from the centre of campus. On the edge of Pacific Spirit Regional Park, the College is as close to the beaches and forest trails as it is to a wide variety of campus services and attractions.
Those who stay in guest accommodation at Green College also benefit from the amenities of Graham House and the College's beautiful grounds and gardens, and can take advantage of the College's extensive program of free public lectures.
Rooms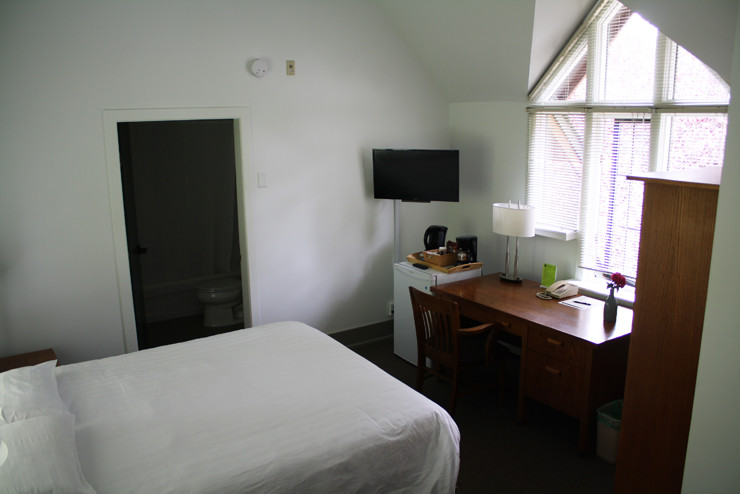 The College offers a range of guest accommodation:
Standard and Premium Guest House Rooms offered year-round with private bathrooms and wireless internet connection, and the amenities are telephone access for local calling, mini-fridge and coffee maker with in-suite coffee and tea selections
Single Rooms and Studio Rooms are simpler, more economical and occasionally available, located inside our residence with bed, bathroom, and internet access (guest must provide their own ethernet cable to connect to the internet).
Please note that we have a limited number of rooms suitable for persons with mobility or agility disabilities. Much of the property is steep terrain, with many stairs throughout the facility. Please enquire with our staff about your reservation if you have a disability.
---
Meals for Guests
Guests participate in the Green College Dining Society meal plan (on nights when meals are served) as part of their booking fee.
If your stay includes nights from Sunday through Thursday (when the College serves meals) a charge for meals per night will be reflected on your accommodation invoice (see Rates and Policies).
The cost of breakfast will also be included on your invoice for any mornings from Monday to Friday, when breakfast is served.
You may, of course, choose not to take meals at the College, but this charge is not refundable and meals are not transferable.
Breakfast is continental-style served in the Great Hall Monday through Friday, 7:30-9:30 a.m.
Dinner is a three-course experience served in the Great Hall Sunday through Thursday, 6:15-7:30 p.m.
The menu changes daily (see the weekly menu), and there is always a vegetarian option.
You are also welcome to invite your own guest(s) not staying in guest accommodation to join you for dinner or breakfast. Please note that anyone not already covered by the guest accommodation meal plan requires their own ticket for dinner or breakfast.
See dinner rates here
Breakfast tickets are $6.00 and can be paid for with cash at the Servery or in advance at the College Office.
For those times when meals are not served, there are many food outlets and restaurants on campus (see UBC Food Services) and nearby in the 10th Avenue shopping district and beyond.
There are vending machines with snack foods and beverages in the basement of Graham House. The Common Kitchen, used mainly by the College's residents, is equipped with a stove, fridge, dinnerware and small appliances, which can also be used by guests.