Green College Staff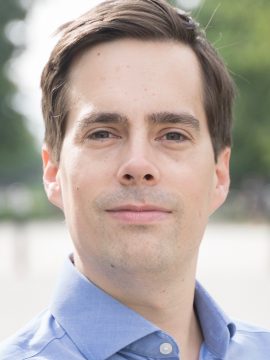 Vincent Gélinas-Lemaire, Assistant Professor (French), French, Hispanic and Italian
Vincent Gélinas-Lemaire specializes in French literature from 1945 to the present, with a particular focus on the representation of space in narratives. After studies in architecture, he has obtained an M.A. in French literature from the Université de Montréal, as well as an M.A. and a Ph.D. in Romance Languages and Literatures from Harvard University. His first book, Le Récit architecte : cinq aspects de l'espace, was published by Classiques Garnier, Paris, in March 2019. It offers new tools to describe and contrast the creation of fictional environments, large and small, through the particular means of storytelling.
Recent publications:
Editor and contributor, (forthcoming) April 2020
in Études françaises n°54, 3 : « Le monde en ruines : espaces brisés de la littérature contemporaine »,
Presses de l'Université de Montréal.
"As the World Falls Apart: Living Through the Apocalypse in Le Poids de la neige (forthcoming) 2020
and Oscar de Profundis,"
in Moraru, Simek and Westphal (ed.), Francophone Literatures as World Literature, Bloomsbury Pub.
"The Narrative Lives of Places: Literature as an Architecture," 2019
in Contemporary French and Francophone Studies : SITES n°22.4, University of Connecticut.
Le Récit architecte : cinq aspects de l'espace (monograph), 2019
Classiques Garnier, coll. « Théorie de la littérature, » Paris, France.
To learn more about the Green College Leading Scholars program, visit our website here: https://greencollege.ubc.ca/green-college-leading-scholars-program