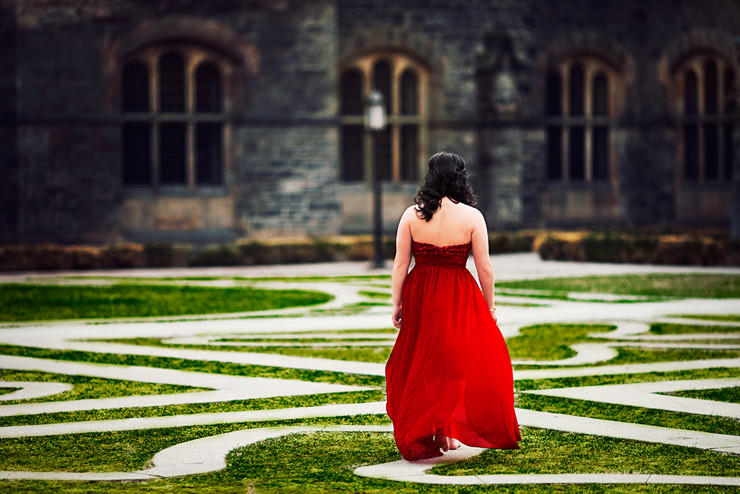 Larissa Ho remembers when she couldn't get out of bed in the mornings. She had lost interest in everything she used to love to do—and she was only 11 years old.
"I didn't feel anything," Larissa says. "I liked to make up stories, I liked to go skating, and I liked to draw. None of that mattered anymore."
It was around this time that Larissa also started to hear voices, which came and went infrequently.
At first, Larissa's parents were worried. Where did their curious and creative child go?
But friends assured the family that Larissa was simply becoming a teenager. This behaviour was normal, they said. It was most likely teenage angst.
When Larissa turned 15 and the feelings of emptiness persisted, she realized it was something more serious and sought help from a school counsellor.
"I realized 'I can't live with this anymore' and I was feeling very suicidal," she says. "I never thought that anybody could do anything to change this, so I never reached out to anybody before I was 15."
Larissa eventually connected with a doctor who referred her to a psychiatrist.
"They diagnosed me with depression," she says. "And it was like, something just clicked. I just realized, 'Okay, this is not my fault.'"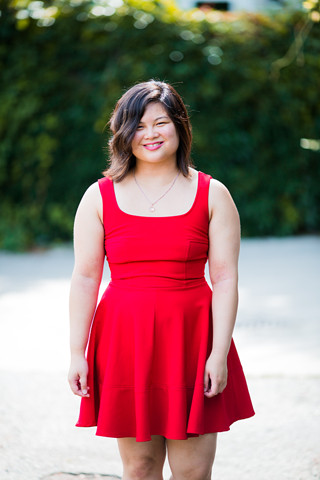 Breaking the silence
For Larissa, it was a relief to hear this initial diagnosis.
She was then asked to go to a mental health unit of a hospital in Brampton, Ontario, where she stayed for six weeks—four weeks as an inpatient and two weeks as an outpatient. It was there that she received another diagnosis. This time she was told she had "depression with psychotic features."
Even though she was technically getting help, Larissa felt uneasy.
"I was terrified to go to the hospital," she says. "I thought [it] would be a good thing because I wanted to get my life back together.
"But on the other hand, being in the hospital just confirms you're crazy. Once you've been in the mental health unit, you have that history. And I thought, 'I've wanted to keep this under wraps for so long.'"
Before she reached out for help, Larissa would refer to her state of mind as a "mental thing"—something that couldn't be good. She branded it as shameful and isolated herself.
"I chose to suffer in silence with it," she says, "rather than admit it and get myself treatment."
After the six weeks in Brampton, Larissa was discharged to the Centre for Addiction and Mental Health (CAMH) in Toronto where she was an outpatient for three years. She then moved on to a program associated with CAMH that focuses on reintegrating patients back into their daily lives.
Soon enough, Larissa felt optimistic about the future. But she had no idea what she wanted to do next.
It wasn't until a couple of years later that she decided to accept an offer from the University of Toronto's English department, inspiring her most courageous effort yet.
Becoming silver girl
Larissa never thought that she would write a memoir on her experiences with mental illness.
That all changed in a writing course at the University of Toronto Mississauga's Professional Writing and Communication Program. The assignment: write about your life.
While other students wrote stories based off of their triumphant first baseball game win or an awkward first date, Larissa chose to write about something more personal.
"I needed to write stories that I kept inside myself for a while," she says. "And it was a little difficult because I didn't know how my peers, friends, classmates, and my professors would react to me revealing something so personal."
Despite her hesitation, the class' reaction was overwhelmingly supportive—so much so that Larissa was encouraged to publish her work.
The assignments from this pivotal class were transformed into her self-published collection of short stories, Becoming Silver Girl, published under "Larissa Fleurette."
The stories chronicle Larissa's struggles, but also underscore her inspiration and resilience.
In the chapter, "Becoming Silver Girl", Larissa recalls the exact moment that felt hopeful.
It was Hallowe'en night and she was trick-or-treating with some of her fellow patients from the mental health unit. They stopped at a house where a man was handing out candy while a young girl played piano inside.
In between the noise of spooky decorations and candy-loving kids, Larissa heard the girl play one of her favourite songs, "Bridge Over Troubled Water" by Simon and Garfunkel. The man started singing under his breath:
"Sail on silver girl. Sail on by. Your time has come to shine. All your dreams are on their way."
And with that familiar melody, Larissa knew that her world had changed.
"I felt so at peace for the first time in so long when I heard that song," she says. "There was something about that night that changed the direction I was going in."
Listen to Larissa read an excerpt from her short story, "Becoming Silver Girl":
There's always a story
With determination and support, Larissa became silver girl.
She wanted to get better not only for herself, but for her family. As the oldest of five children, Larissa said she felt a responsibility to strengthen her mental health.
"My four younger siblings are my rocks," she says. "They've pulled me through a lot of times just because they were there… because this is our struggle—it's not just my struggle."
Although she is close with her family, Larissa mentions that the hardest part of writing these stories was knowing that her parents and siblings would read them.
"[It was hard] because we went through all of that together," she says. "And to have them read what the experiences had been like from my point of view was really hard because it was almost like it was happening all over again."
Despite the challenge to get these stories out, Larissa knew that she had to share her experiences. And her bravery has connected everyone from her friends to complete strangers, telling personal stories of their own. Mental health care practitioners have also reached out to her, emphasizing how important it is to hear about care from a patient's perspective.
"[The book] has this permanence," Larissa says. "It has a life of its own. People are reading it who I don't even know, who I've never met."
Shortly after her book was published in March 2015, Larissa moved to Vancouver as a Resident Member of Green College where she is pursuing her Master of Fine Arts in Creative Writing at UBC. Now, she's thinking of where she can take Becoming Silver Girl next—it may even transform into her thesis project.
No matter where the project goes, Larissa remains grounded in the present as a strong advocate for mental health awareness. Flipping through one of the copies of her books in the Coach House of Green College, she smiles.
"There's always a story… and everybody is connected to mental health issues. I knew I had to talk about this."
You can order Larissa's book on Amazon here: Becoming Silver Girl