The Resident Members of Green College and St. John's College never used to mingle much.
Even though they're the only two graduate residential Colleges on campus, they remained very separate—Green with an interdisciplinary vision and St. John's with an international focus.
But that all changed in 2013 thanks to a dusty old trophy.
Shashika Stanislaus, a former resident who studied Law, and Daniela Oliverio-Lauderdale, a former resident who studied Anthropology, found out that the two Colleges used to compete for a coveted soccer trophy in the 1990s.
"The cup was just stored in the basement of St. John's," Shashika says. "We thought, 'We're going to revive this cup. But we're going to turn it into something bigger than just a traveling soccer trophy.'"
Together with Arend Hoekstra, a resident at St. John's who also studied Law, Shashika and Daniela brainstormed how a new competition could help foster collegiate spirit and also bring the two Colleges together.
Shashika and Daniela already had experience organizing Green College's Welcome Month with a pioneering team concept. Throughout September 2013, Greenies met each other with ease in fun mini-events, all leading up to "GreenFest"—one whole day on Spanish Banks dedicated to competitions like volleyball and obstacle courses with a night of dancing to cap it off.
Both Shashika and Daniela agreed that they wanted to mix GreenFest with the old soccer rivalry with St. John's.
And then, Shashika says, the St. John's-Green College Challenge was born.
"What we wanted to do was to create a combined event that led to something," he says. "And we saw competition as a way of bringing Greenies together."
Rallying the troops
After that first meeting, Shashika, Daniela, and Arend felt inspired to unite the Colleges.
Before their idea could go forward with full, spirited support, they had to make sure there was enough interest from Resident Members to participate in the proposed events hosted at Green College: soccer, live chess, foosball, trivia, ping pong, and a boot race.
"There were a lot of different events," Daniela says. "You want to have enough people to do some sporty things, some grad school nerdy things—because we all like that—and enough competition to make it happen."
The support from Resident Members poured in. They were intrigued and excited, especially because this event was a chance to finally meet all of St. John's at once.
"Our participation numbers were through the roof," Shashika says. "People [were] not only integrating with the [Green College] community, but integrating with the UBC community at large by conversing with St. John's."
Beyond these communities, there was also the promising potential to bring back Society Members.
"We saw this as being somewhat of a homecoming for Society Members—an opportunity for them to come back, relive some of the glory days with Greenies both past and present," Shashika says.
For Daniela, the enthusiasm behind the first Challenge demonstrated a comradery among grad students.
"This is what grad student life is about. I mean, there is a certain kind of person that ends up going to grad school—and it involves being a little competitive," she says with a laugh. "But in a good way!"
And that dusty trophy? It was revived and shinier than ever with a brand new cup and refurbished columns. The plaque now reads, "The Wreck-Tower Cup," a nod to the two respective beaches of the Colleges.
"We wanted to keep the historic nature of [the trophy]—something that binds us to the past," Shashika says. "But at the same time we wanted to create something that was our own."
Intercollegiate ideas and friendship
At the end of the inaugural Challenge, friendly competitive tensions filled the Great Hall.
Green College and St. John's were tied and the boot race was set to be the defining moment of the whole night. Both Colleges lined up on either side of tables stretched out in the hall, cheering and chanting through the race—and, in a down-to-the-wire moment, the Greenies came out victorious.
David Gill, a Resident Member studying in the School of Community and Regional Planning, remembers it vividly.
"That's when Shashika approached me and said, 'Next year we need to keep this going. Would you be interested in coming on board?'"
When Daniela graduated, David then stepped in to help plan the second Challenge hosted by St. John's in fall 2014.
After the first event, both David and Shashika had an idea for the residents' leadership: what if there was a committee at Green College whose mission would be to foster intercollegiate relations between Green and St. John's?
"We saw that we had something," Shashika says. "So we went to the Residents' Council and we said, 'We've got something great. We've got momentum. We've got to establish a committee to make sure this continues.'"
The committee became known as the Intercollegiate Affairs Committee, organizing not only the Challenge, but also other events to maintain a friendship with St. John's.
Along with the committee, David and Shashika introduced new and more artistic competitions. In the second Challenge, aspiring Iron Chefs competed in a bake-off with surprise ingredients and limited time. The was also an innovative polo game with people as horses that had as much strategy and spirit as a professional match.
Even though Green College lost the second Challenge, the energy to constantly reinvent the competition continued.
In the third iteration, hosted by Green in spring 2015, team captains were created. Residents could now help organize the events as part of the Intercollegiate Affairs Committee's executive board, providing them the opportunity to exercise their leadership skills.
One new event was spaghetti bridge-building, which rallied both College's engineers, mathematicians, and architects. Another major addition was a tour-de-force game of tug-of-war with a coach-like captain determined to win.
A music competition called "The Grad Factor" was also introduced. Residents were given a list of five pop songs and five classical songs with the instructions to mash-up one from each list—with toy instruments.
"I have this memory of Shashika and I driving all over to different Value Villages in order to find all the kids' toys that might make a sound," David says with a laugh.
With everything from a Fisher-Price rainbow toy piano to a xylophone missing a key, teams had only 45 minutes to make an original composition. Green College won with a subtle operatic rendition of Taylor Swift's "Shake It Off"—complete with choreography.
"Everyone was just enchanted," David says. "It was the most amazing performance."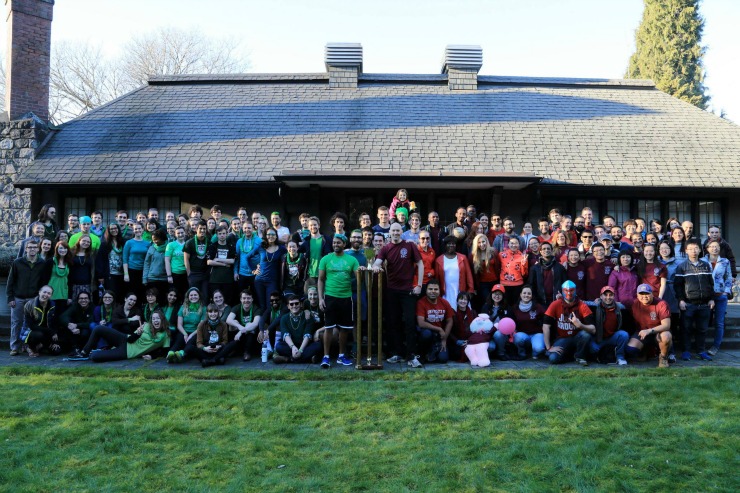 Great expectations
Now, the Intercollegiate Affairs Committee is gearing up for the fourth iteration of the Challenge on October 17 at St. John's.
This time, there's a sense of urgency as Green College will fight to bring the cup home for the first time since March 2014.
No matter the outcome, though, David emphasizes that there are high expectations to organize a fun night.
"[There is] a bar set very high thanks to Daniela and Shashika," he says, "to create a good event and deliver on that expectation."
Amalie Lambert, a Resident Member studying Architecture, has stepped up to Shashika's role after he graduated. After experiencing the festivities of Welcome Month, Amalie knew that she wanted to get involved in something like the Challenge.
"I'm curious to meet people from another College and create community spirit," she says. "You get to practice together and improve together."
Two new events will be introduced this time: a dance-off, keeping in the artistic spirit of the College, and a cook-off, catering to the creative chefs that frequent the Common Kitchen.
Even if Resident Members don't want to participate in the events, David encourages people to come out and support their fellow Greenies—they might even be entertained.
"Each event has been conceived as a great performance or event," he says. "So if you're not into foosball or dancing, they still make for great performances."
Beyond the Challenge itself, the Intercollegiate Affairs Committee organized its first successful dinner exchange where residents from both Colleges signed up to dine and converse at the opposite College. As David and Amalie move forward into the academic year, they're hoping to continue this and liaise more events.
For Shashika and Daniela, they're still in awe that all of this has come out of that fateful trophy find.
"When Daniela and I first started this, we didn't think we'd be able to pull it off," Shashika says. "And now looking at the event in October and it's on its fourth iteration... That's just mind-blowing for us and we couldn't be more pleased."
"The College can rally," Daniela says. "They can really come together to do something incredible."
The fourth St. John's-Green College Challenge for the Wreck-Tower Cup took place on October 17 at 5 p.m. at St. John's College.