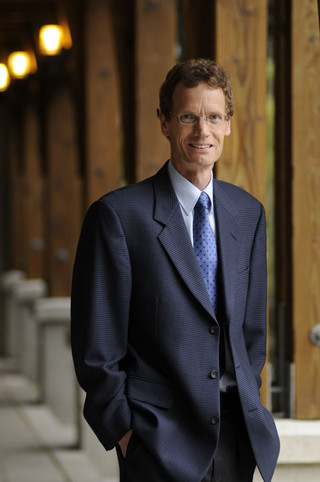 The role of the Principal of Green College is to provide administrative, intellectual and social leadership for the Green College community in the spirit of supporting and promoting wider interdisciplinary activities at the University of British Columbia.
Dr. Mark Vessey has been the Principal of Green College at UBC since July 1, 2008. Prior to his appointment as Principal, Dr. Vessey had a long history with the College, having previously served as Acting Principal in 1998/99, and as a Faculty Member of Green College since 1994.
Dr. Vessey obtained his B.A. in English at the University of Cambridge and his D.Phil. in Ancient History at the University of Oxford. He came to UBC in 1989 as an I. W. Killam Postdoctoral Fellow in the Department of English, and was appointed to a faculty position in that department in 1990. He held a Visiting Fellowship at All Souls' College, Oxford, in 1997 and was Visiting Professor of Augustinian Studies at Villanova University in 2000. In 2001 he was awarded a Canada Research Chair in Literature / Christianity and Culture (renewed in 2005), and in 2005 won a Senior Killam Research Prize at UBC. Before taking up his position as Principal of the College, he served as Associate Head and Chair of the Graduate Program in English. He was a member of the UBC Senate, representing the Faculty of Arts, for the triennium 2008-11.
Dr. Vessey's research focuses on processes of text-, canon- and discipline-formation in the Latin Christian culture of the later Roman Empire (4th to 6th centuries) and their role in the shaping of longer-term discourses and institutions of "western civilization," particularly those associated with "literature." He has published in the fields of Roman history, patristics, medieval studies, Latin and English Renaissance literatures, literary theory, and the history of the book.
Recent books of his include a collection of articles on Latin Christian Writers in Late Antiquity and their Texts (Ashgate, 2005), a co-edited volume on Augustine and the Disciplines (Oxford, 2005) and an edition of Augustine's Confessions (in English) for Barnes & Noble Classics (New York, 2007). He is currently compiling a Companion to Augustine for the Blackwell Companions to the Ancient World Series and preparing an annotated translation of Erasmus' Annotations on the Gospel of St Luke for the Collected Works of Erasmus (Toronto). Also in preparation are a volume on Augustine in America: Politics, Society, and the Life of the Mind, based partly on a conference held at Green College in 2006, and another, The Calling of the Nations: Exegesis, Ethnography and Empire in a Biblical Historic Present, derived from a Thematic Lecture Series at the College and an Exploratory Workshop at UBC's Peter Wall Institute for Advanced Studies.
Dr. Vessey is a member of the editorial boards of Neulateinisches Jahrbuch / Journal of Neo-Latin Language and Literature (Olms), The Erasmus of Rotterdam Society Yearbook (Brill), Postscripts: A Journal of Sacred Texts and Contemporary Worlds (Equinox), and Studies in the Reformation (Kluwer).
He is married to Dr. Maya Yazigi and they have a daughter, Leila.
Mark Vessey, Principal
Phone: 604-822-8670 | Email: gc.principal@ubc.ca
Submitted by lundeen on Tue, 2015-05-05 09:28