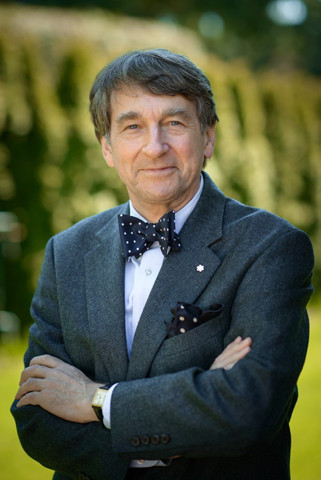 When John Gilbert looks back on his graduate career, he never would have imagined the opportunities for interdisciplinary discussions that thrive today.
"I didn't have any understanding of the dynamic of a University and the possibilities outside of my own field of interaction," he says. "I had no real sense that a University would offer me this incredible diversity of talents and opinions and views that would be accessible to inform my own work. And I wish I had known that."
The founding director of UBC's School of Audiology and Speech Sciences in 1969, John has witnessed countless changes in the University since his career started. As he shares his own story for this interview in the Gibson Room at Green College, he stresses the importance of hearing senior scholars' stories.
The 2015-2016 lecture season will mark the first time that John has organized the Senior Scholars' series at the College. As an accomplished professor emeriti, he hopes to continue series founder Judith Hall's original vision: to encourage accomplished scholars to tell their life stories.
"She wanted an autobiographical account of their lives, not a lecture," John says.
At the core of this vision is to ask the questions that rarely get asked in the lecture hall, such as what lead the scholar to become a professor, what motivated them as a young academic, and the challenges they have had to overcome throughout their career.
John admits that sometimes it takes a little coaxing to get professors emeriti to speak more candidly.
"[I say], 'I can go hear a lecture in your former department—give us your story!'" he says with a laugh.
With the Senior Scholars' series, John hopes not only for esteemed scholars to tell their stories, but also to inspire young scholars.
"Even though it's called [the Senior Scholars'] series, it's really meant to reach out to people who are going to be the next generation of academics," he says.
This is the connection that John wants to cultivate—one grounded in research and scholarship and, at the same time, both personal and inspirational.
A pioneering journey
He recalls his own journey to find his passion. Endlessly curious about language, John decided to pursue speech science studies and attended Purdue University as a UK-USA Fulbright Scholar and a David Ross Research Fellow. In 1966, he received his Ph.D. in Speech Sciences and founded the School of Audiology and Speech Sciences three years later. John then served as Director of the former School of Rehabilitation Sciences in the '80s, and is founding Principal and Professor Emeritus of the College of Health Disciplines at UBC.
Since 2000, John has served on various boards on the local and national level. He was the first Chair of the Board of the Women's Health Research Institute at BC Women's Hospital and served on the Board of the Victorian Order of Nurses in Ottawa. Today, his involvement is expansive, from being a Senior Scholar at the WHO/PAHO Collaborating Centre on Health Workforce Planning and Research at Dalhousie University to serving on the Board of the International Association for Interprofessional Education and Collaborative Practice—among several other significant collaborations.
A highly influential academic, John's work on the phonetic aspects of child language is internationally recognized. He pioneered the development of interprofessional health education—a collaborative method that impacts practice and improves the quality of patient care.
"Interprofessional is really about getting various health professionals to learn from each other, with each other, and about each other," he says, "because we know that the more that health professionals know about what it is that what their colleagues and other professionals do, the better able they are to work collaboratively."
Even though his life's work has been devoted to this patient-centered collaborative model, it wasn't until John received the Faculty Community Service Award as part of the Alumni UBC 2015 Achievement Awards that he thought more introspectively about his career.
Engaging in the University community
When asked about what has driven him throughout his life, John credits a universal concept.
"When I reflect on the way in which I was raised and the ethical and moral discussions that we had, and the way we were expected to live… Well, it's really about the golden rule," he says. "In the health care field, that's absolutely, vitally important."
For John, the award is not only a career milestone amongst all of his other accolades, but it is a vibrant reminder of why he continues to do what he does.
"We are given a lot in our education and we have a lot that we have to give back," John says. "And I've always tried very hard to ensure that I give back more than I've taken out of society. So it's very humbling."
One major part of John's community engagement has been through Green College. He was a Senior Fellow at the College from 1991 to 1995 and helped select the very first group of residents in 1993.
John remembers being on the University Senate when the proposal for Green College was presented for approval. Now, as a Member of Common Room and the convenor of the Senior Scholars' series, John is proud to host the talks at the College and emphasizes its interdisciplinary and collaborative nature.
"What is unique is this notion that you can live together, you can learn from each other," John says. "There's a sense of comradery that you do not get in any other kind of graduate gathering at this University. And I think that is good both personally for students [and for] the university."
As the series kicks off on September 15th with a lecture from notable historian Jean Barman, John hopes that young academics will attend and leave with a fresh perspective on their early careers.
Today, even as a Professor Emeritus, John still draws on his early academic career. He laughs as he thinks about the strange and unexpected ways that knowledge comes into play.
"[I will think], 'Oh yeah!'" he says with a smile. "That little piece of whatever I did 25 years ago… I think that would fit here.'"
The 2015 Alumni UBC Achievement Awards take place on Tuesday, October 27, 2015 at 6 p.m. at the Robert H. Lee Alumni Centre. For more information, click here.