Writer in Residence Panel Discussion: Can the arts help us die well?
Gretchen Ladd, art therapist, counsellor and educator; Pippa Hawley, Palliative Care, Department of Medicine, UBC; Eve Joseph, writer
Coach House, Green College, UBC
Thursday, November 16, 5:00 pm, with reception to follow
Why do we imagine that we might have to close the door on life if we are diagnosed with a terminal illness? Given opportunities to be creative, perhaps we could live deeply in our last months, weeks, and days. Certainly the arts have the potential to enrich us at the end of life. They allow us to leave behind a gift of ourselves to family and friends after we have gone. Indeed, they might help us enter into our dying more fully.
Moderator and Host:
Anne Simpson is a poet, novelist, and essayist. Her second book of poetry, Loop, won the Griffin Poetry Prize. Her second novel, Falling, was longlisted for the IMPAC Dublin Literary Award and won the Dartmouth Award for Fiction. Her book of essays, The Marram Grass: Poetry and Otherness, is a series of mediations on poetry, philosophy, and art. She has been a Writer in Residence at libraries and universities across the country, and has been a faculty member at the Banff Centre. She lives in northeastern Nova Scotia. She is Green College's 15th Writer in Residence.
Panelists: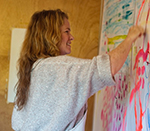 Gretchen Ladd is a registered art therapist, counsellor and educator who has provided therapeutic arts to diverse communities for over twenty-five years. She has worked with long-term care residents, mental health clients, cancer patients, bereaved families and clients who have experienced trauma. For fifteen years, she worked in the field of cancer care, supporting individuals and families dealing with health transitions and terminal illness. An instructor at the Vancouver Art Therapy Institute, she has also facilitated art therapy training in Nepal, Thailand, and Japan.
Pippa Hawley started the Pain and Symptom Management/Palliative Care Program at the BC Cancer Agency's Vancouver Centre in 1997. This has now become a Provincial Program, of which she is medical leader, with teams at each of the six BCCA centres. She has research interests in many areas of supportive and palliative care, including the integration of palliative care into oncology. Dr Hawley is a Clinical Associate Professor and Head of the Division of Palliative Care in the UBC Department of Medicine, and teaches at all levels, including to the public.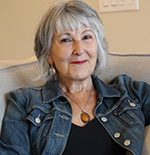 Eve Joseph is the author of two books of poetry, The Startled Heart (Oolichan, 2004) and The Secret Signature of Things (Brick Books, 2010), both of which were nominated for the Dorothy Livesay Award. She was awarded the P.K. Page Founder's Award for poetry in 2010. Her nonfiction has been shortlisted for the CBC Literary Awards and won in the "Gold" category of the Western Magazine Awards. Her nonfiction book, In the Slender Margin, published by HarperCollins in 2014, won the Hubert Evans Nonfiction Prize and was named one of the top 100 books of the year by the Globe and Mail. Eve worked as a palliative care counsellor for twenty-one years at Victoria Hospice.