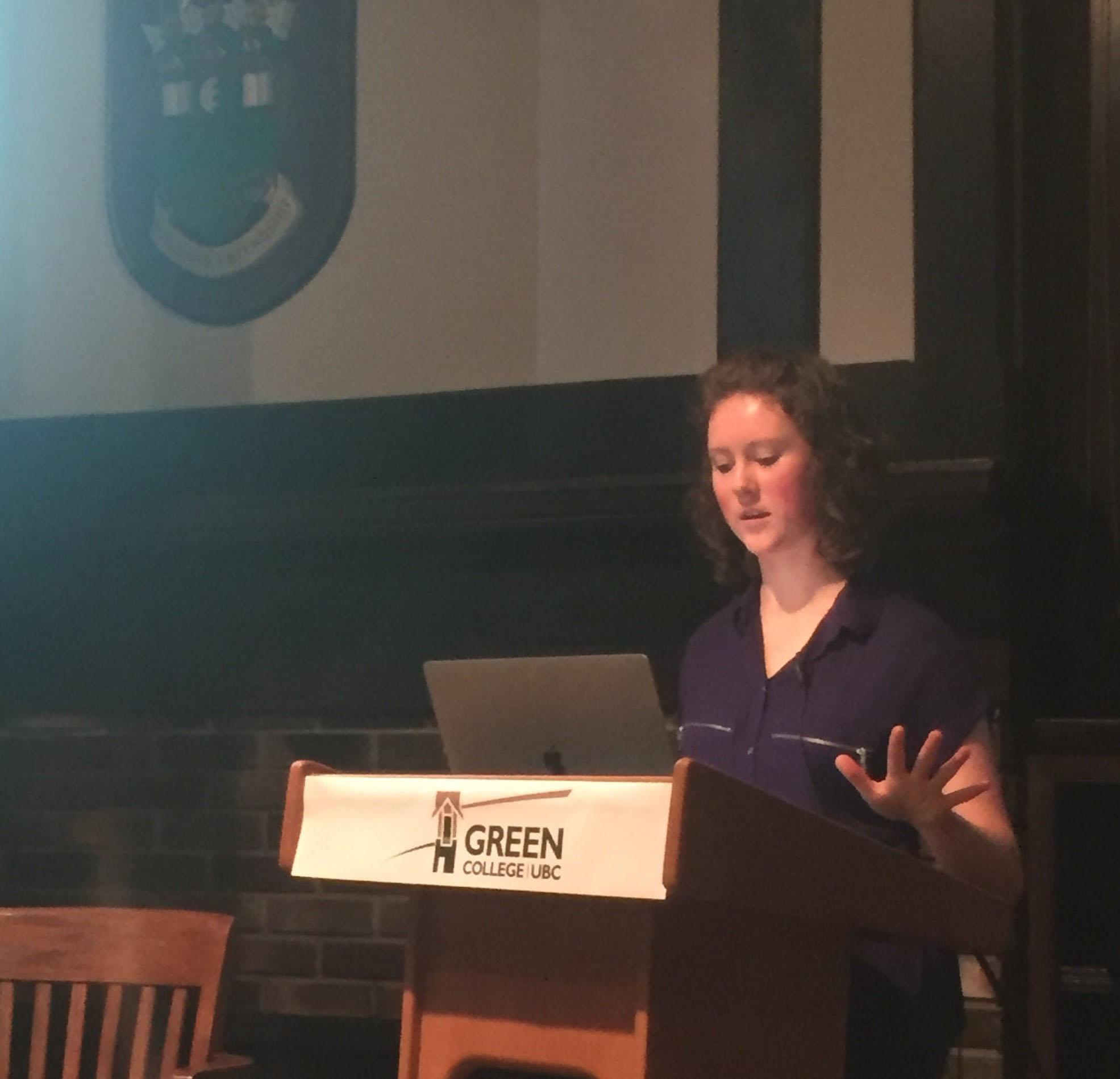 Green College Staff
Kelsey Huus was the first face of the Resident Members' series with her talk on Hungry Gut Bacteria and the Struggle for Survival. Kelsey is a very familiar figure around Green College, and it felt apt that she be the inaugural lecturer of this year.
In her fifth year of her PhD in microbiology and immunology, Kelsey is well versed in graduate life, and was able to bring this experience to her talk to engage the laypersons in the audience (or those of us rigidly situated in the arts and humanities).
Connections were drawn between the gut as a community and the community lifestyle of the grad student, particularly familiar to those audience members who dub themselves a 'Greenie.' The struggle between graduate student and supervisory authority was paralleled with the hard-working gut bacteria and the imposing immune system. The most relatable challenge faced by the humble gut bacteria is that of food; its admirable ability to survive in such harsh environments and continue to find its next meal matched only by the grad student's instinctive knack in finding their next, and most importantly free, meal.
Aside from her ability to draw unlikely comparisons, Kelsey's other talent is based in researching which bacteria contribute to malnutrition. Malnutrition is the cause of 45% of deaths in children under 5 and is caused not only by restricted or unhealthy diet but also poor sanitation.
Kelsey has spent most of the past three years working on a collaborative research project called The Afribiota Project. Based out of the Pasteur Institute in Paris, the project looks at childhood malnutrition in the developing world, with research centres in Bangui, Central African Republic, and Antananarivo, Madagascar.
Kelsey spent most of last spring working at the Pasteur Institute, and during this time was able to visit Antananarivo in Madagascar. She said that getting out of the lab and visiting those taking part in the research project was an important opportunity for her: a chance to see the ways in which the lab work can impact lives, but also a reminder of the people and communities behind the numbers and data.
The Resident Members's Series continues throughout the term at Green College, with lectures on a number of topics and disciplines, at 8pm on a Monday evening. To see the line-up of speakers, as well as other lecture series' and events, please check out the Green College calendar.
Mairi Stirling Hill
Department of English Language and Literature, UBC