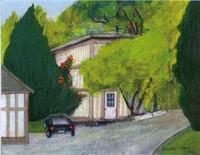 Green College Staff
Have you walked the Path to Glory? This oil painting of the squash clubhouse that sits next to Green College is titled just that. "Path to Glory" was painted by David Walker (Professor Emeritus in the Department of Chemistry) in 2003.
Unfortunately, David Walker passed away on October 9th, 2020.
"In 1967, UBC was planning to bulldoze the squash court within the Cecil Green Park, but David, myself, and Gerry Porter saved the court that remarkably involved collecting funding of $25 from 20 players; of note, David was still playing regularly with Elliott Burnell until January this year. He was devoted to the Faculty/Alumni Squash Club, and even painted "Path to Glory", a picture of the club, this artistic endeavor being vigorously encouraged by Gale, David's second wife. The minutes of the squash club meetings refer to 'the lively personality, quick wit, and infectious laugh' of David." (from "The Department Mourns the Passing of Dr. David C. Walker": https://www.chem.ubc.ca/department-mourns-passing-dr-david-c-walker)
Whether throwing the day's trash in the backyard bins, or perhaps just finding a shorter way to the lower patio, crossing paths with Glory is a normal routine for College residents. But, did you know that Green College had a Squash Club back in the day?
Yes, it is true! The Green College Squash Club worked with the UBC Squash Club to schedule playing times and to look after all aspects of the maintenance and upkeep of the facility. In the past, those wishing to use the facility had to join the Green College Squash Club and participate in the organization of the club.
Although the Green College Squash Club no longer exists, the old clubhouse still stands as the UBC Faculty/Alumni Squash Club (https://www.ubcsquash.com/).