Green College Staff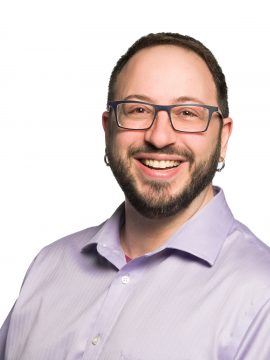 Patrick Rizzotti, Assistanat Professor (Design and Production), Theatre and Film
Patrick is an Assistant Professor in the Department of Theatre and Film and has a history of practice base research in design for live performance, television, and virtual/augmented/mixed reality. The focus of his work is visual storytelling and investigating how theatre can be made more immediate, urgent and immersive for an audience. Previous Television projects include: America's Got Talent (NBC),The Today Show (NBC), The Mysteries of Laura (NBC), The Dr. Oz Show (ZoCo), Sneaky Pete (Amazon), and The Americans (FX). I maintain an active design studio in NYC and have designed over 100 theatrical productions throughout the United States, Canada, and Europe. Patrick has received the USITT Scenic Design Award, is a winner of the OPERA America Director-Designer Showcase, and is an alumnus of the Lincoln Center Director's Lab. Patrick has presented his work internationally and his designs appear in several notable theatrical design books. He sits on the USITT International Committee and has chaired or been a panelist on sessions including: green model building, collaboration between designers/shops, the challenges of creating sight specific theatre, careers beyond the theatre. M.F.A: Carnegie Mellon School of Drama. Memberships: Wingspace Theatrical Design Collective, Associated Designers of Canada, and USA 829. www.patrickrizzotti.com
Social Media – https://www.facebook.com/pjrizzotti
Upcoming and Recent projects:
Exhibition Designer and Advisory Board Member
The International Organisation of Scenographers, Theatre Architects and Technicians (OISTAT) has chosen Calgary, Alberta, Canada as the next destination for World Stage Design (WSD2021). From August 5th to 15th, 2021 the University of Calgary's School of Creative and Performing Arts (SCPA) with the Canadian Institute for Theatre Technology/Institut canadien des technologies scénographiques (CITT/ICTS), Canada's OISTAT Centre, will host WSD2021. World Stage Design is an OISTAT event held every four years that is comprised of four distinct components that are presented simultaneously: International Design Exhibition and Competition, Scenofest Conference, Theatre Architecture Competition (TAC), and Technical Invention Prize (TIP). In addition to the four components of WSD, the OISTAT World Congress and the CITT/ICTS annual trade show and conference, Rendez-vous will be on the UCalgary campus.
WSD2021 will be the fifth iteration of this OISTAT event which is held every four years on a different continent. Originating in Toronto, Canada, WSD has been to Seoul, South Korea; Cardiff, Wales; and Taipei, Taiwan. At WSD2017 in Taipei, 168 designs from 35 countries were on display, and 121 performances of 35 different productions were presented selling 5,000 tickets. The conference included panels, keynote speakers, and workshops. WSD2017 hosted more than 15,000 visitors from 71 countries over 10 days, exchanging and sharing ideas.
************************
Mixed Reality Performance Symposium hosted at UBC.
In February 2020 Patrick organized a Mixed Reality Performance Symposium at UBC. The Mixed Reality Performance Symposium: UBC is the second of six symposiums hosted by mixed reality producers Toasterlab, and explored extended and mixed reality performance. Artists and new media creators shared modes of working and recent successes in VR, AR, and immersive theatre. Attendees gained insight into the production process and hands-on experience with 360VR cameras, VR headsets, geolocation, motion capture and other creation and distribution tools. 50 people were in the room, 300+ watched real-time livestream and many watched the archive on HowlRound Theatre Commons. Link to archive.
Patrick Rizzotti is on Toasterlab's Advisory Committee for a Canada Council for the Arts | Conseil des arts du Canada grant from the Digital Strategy Fund.
************************
Don't Dress For Dinner
Scenic Design: Designed scenery for Penobscot Theatre Company's recent production of DON'T DRESS FOR DINNER.
************************
Fun Palace (A Carnival of Mixed Realities) Summer 2019
Scenic and Spatial design
The Fun Palace (A Carnival of Mixed Realities) is a curated location-specific mixed reality event consisting of several interactive prototypes that propose new audience interactions with emerging technologies such as Augmented Reality (AR), Virtual Reality (VR), and Mixed Reality (MR). The Fun Palace is a provocative reinvention of the low fidelity sketches of Cedric Price (1964) and others, drawing from the field of Cybernetics.
************************
The Nether
Scenic Design: Designed scenery for Dobama Theatre Company's 2019 production of THE NETHER. Here is a link to the production trailer.
Synopsis: The Nether is a virtual wonderland that provides total sensory immersion. Just log in, choose an identity and indulge your every desire. But when a young detective uncovers a disturbing brand of entertainment, she triggers an interrogation into the darkest corners of the imagination. Both a twisting criminal drama and a haunting sci-fi thriller, The Nether explores the consequences of living out our private imaginings in the age of virtual reality.
************************
Research Creation Project. 2019
Patrick mentored a six-person team of Master's students at the Centre for Digital Media to prototype an Augmented Reality (AR) application. StageAR offers a scenic designer the opportunity to show a life-sized AR walkthrough of a set design in a fast and cost-effective way. This is a short demonstration of the AR prototype that the MDM team created for UBC Theatre & Film, as part of the xR Prototyping Lab at the Centre for Digital Media. During a 10 day sprint the team created a tool/app for set designers that allowed them to easily pre-visualise set designs using augmented reality for immediate feedback and collaboration. The MDM Program's xR Prototyping lab is intended to support projects and partnerships with developers categorizing themselves within the xR umbrella. The prototyping lab is dedicated to creating an adaptive xR prototyping pipeline. The xR Prototyping Lab is, in itself, a working prototype, intended to align research interests with other companies.
************************
November 2018, Scenic Design (Jessie Nomination). Patrick designed scenery for Pi Theatre Company's production of HIR by Taylor Mac and was nominated for a Jessie Award for this design. Show information and publicity pictures of the set can be found on Pi's website.