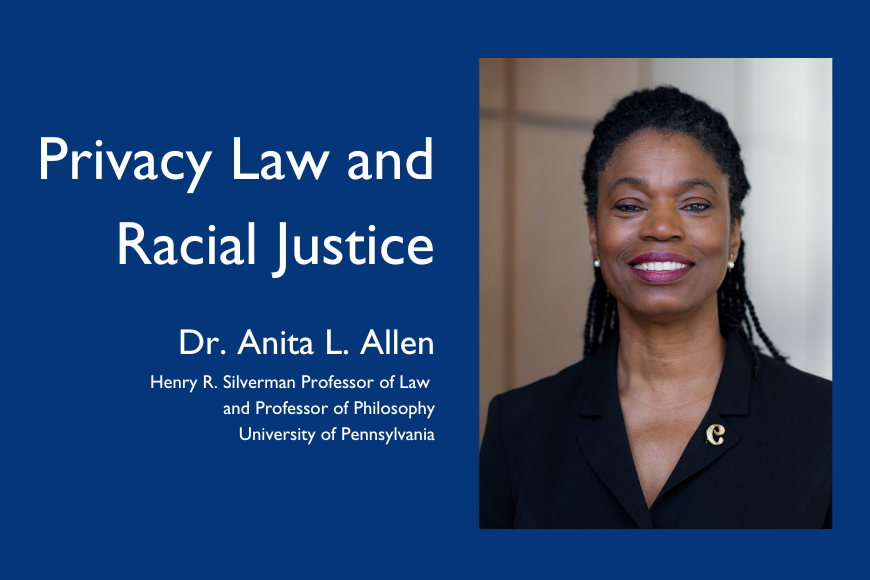 Green College Staff
Cecil H. and Ida Green Visiting Professor Dr. Anita L. Allen presented her research to a deeply-engaged audience in the Coach House at Green College in early October, 2022.
---
It was a talk three years in the making as Dr. Anita Allen took the stage in the Green College Coach House. Dr. Allen had first been approached back in 2019 in a world quite different from the one we live in today. Her research, however, remains just as important as it was before the pandemic, investigating the intersection of privacy law and racial justice, the two fields that lend their names to the title of her talk. Over the next hour and a half, and later in an evening chat with Green College Resident Members, Dr. Allen explained the unique issues that African Americans face as the internet rapidly changes the dynamics of privacy in the United States.
Dr. Allen's presence at the College owed itself to her former student, Dr. Erez Aloni, who set the wheels in motion three years ago. He introduced Dr. Allen, speaking glowingly of what he gained from her tutelage as well as her vast qualifications. Her list of awards was too long to recite in full, but it was clear that this was a scholar who has been at the forefront of her fields for some time. As Aloni noted, she has received awards in philosophy, privacy law and bioethics, and was the first African American woman to hold both a PhD in Philosophy and a JD, as well as the first African American woman elected President of the American Philosophical Association's Eastern Division. And, as Aloni noted, she has impacted the world in other ways as well. Dr. Allen, he said, "transforms the world by living out the moral code she advocates."
Anita Allen began by noting that her lecture would have been very different had she been able to make it to Green College three years ago. Her interests in privacy had pivoted entirely in those intervening years to focus more specifically on the "completely neglected" issues of racial justice. This change, she explained, came about in the wake of the Breonna Taylor and George Floyd cases.
As an American scholar, Dr. Allen admits she does not have as strong a grasp on the Canadian legal landscape as it pertains to racial justice, but she did speak briefly to the comparisons between the two countries. There are, she noted, two bills under discussion at the moment in the Canadian Parliament that would strengthen Canada's data protection and privacy laws. Similarly, there is a pending law in the United States as well. But are these bills and laws specifically good for racial minorities? Sadly, she said the answer is "probably not."
While such laws often appear neutral on the surface, Dr. Allen explained that they would often leave people of colour vulnerable. Laws, she explained, need to be written in a way that address specific concerns affecting racialized people. These concerns are what Dr. Allen calls "The Black Opticon," a "three-fold system of vulnerability in the online context," comprised namely of targeted over-surveillance, discriminatory exclusion (or the use of one's data to deny opportunities), and the use of one's data to lure people into non-advantageous situations (what she calls the con-optic problem). None of the new American laws under discussion, Dr. Allen explained, specifically address these problems.
As Dr. Allen elaborated, these are not new problems in the American context. A greater knowledge of history, Dr. Allen posited, could help politicians better confront the privacy issues confronting racial minorities. African Americans, for example, have been central players in the development of privacy laws throughout American history. Slavery can be understood as providing a baseline for privacy law in the United States, Dr. Allen argued, reminding attendees of the many violations of bodily privacy that slavery entails. She drew specific attention to the 1830 case of North Carolina v. Mann, in which a white woman hired out Lydia, a slave that she owned, to a white man who then shot Lydia when she tried to flee a lashing. Although a jury convicted the white shooter, the case was ultimately overturned on appeal, a decision that was upheld by the North Carolina Supreme Court. The state ruled, with implications for privacy laws across the United States, that the white man—as slave-owner—had a right to privacy in his dealings with his slave, who was relegated to the status of property in the decision. Later, this ruling would be cited in the acquittal of a man in a domestic violence case.
Dr. Allen also pointed to an article from 1890, when an article was published that sought to address the threats that new technology posed to privacy. It specifically looked at the growing use of cameras and widespread newspaper coverage of daily events, and how this practice might infringe on the personal privacy of Americans. Despite how the media at the time frequently published photos of lynchings and Indigenous genocide, the article only addressed the "effrontery" that was being made to rich whites, who now had to worry about being photographed as they went about their lives. Despite the incredibly invasive practices of photographing African Americans and Indigenous peoples in death, only the privacy concerns of the white population were deemed important.
Moving closer to our own time, Dr. Allen outlined some of the many other cases where privacy for all came about as a result of African Americans challenging the legal system. The right to associational privacy came about due to a ruling in the 1959 case, NAACP v. Alabama, in which the NAACP successfully blocked the State's demand to hand over their list of members. The right to interracial marriage privacy was another, as well as the case of Dolly Mack, which made it necessary for police to have a search warrant in order for discovered evidence to be admissible in court. Stanley v. Georgia guaranteed the right to view pornographic material in one's own home in 1969, with the first African American Supreme Court justice, Thurgood Marshall, writing the opinion.
Then, in the 1970s, academic philosophers began to take up the question of privacy. As Dr. Allen outlined, these philosophical interventions raised a host of questions as to what privacy actually was. Philosophers tried to arrive at a definition of the term, and time and again, it seemed the resolution to privacy disputes was to say that, actually, privacy was not the issue at hand. This had significant legal implications, she observed, as those attempting to restrict privacy were able to discard past privacy judgments by pointing to the disconnect between the term and what was actually at stake in the case. In some cases, she pointed out, philosophers were actually trying to obstruct claims to privacy as part of their political project.
Dr. Allen called this approach to privacy the "analytic prescriptive definition" against which she advocates for "critical definitional facilitation." Essentially, instead of trying to define privacy so that the definition can determine its usage, she wants to look at how the term "privacy" is and has been used. As a real-world example of this debate, Dr. Allen cited a case in India. The Indian government had wanted to implement a biometric identification card system, which was protested due to the invasion of privacy it entailed. The argument made in favour of the cards was that privacy was too vague a term and it never actually appeared in the Indian Constitution. The Indian Supreme Court's verdict was that dignity, which was guaranteed in the Constitution, provided a robust base for the right to privacy. Even if the term was not to be found, what people mean by "privacy" was deemed to exist already.
If there are positive advances in the privacy debate, Dr. Allen sees them in the discussion of privacy as a civil right. This approach, she hopes, will help to carve out a concrete place for privacy and the importance of its protection.
Dr. Allen fielded a number of thoughtful questions after her talk. On the topic of whether race should be included in data collection, she mentioned European laws which hold race as a protected—and as such, undocumented—category. She is less inclined to move in that direction, however, as racial data is needed in order to deliver social services, and it can also provide ways of finding online communities.
Near the end of her time in the Coach House, Dr. Allen was asked how we can change people's minds on issues of privacy. She pointed to freedom as an example of a value that must be upheld. Privacy, she believes, should be seen likewise: "it is too personally important."
---
Anita L. Allen is the Henry R. Silverman Professor of Law and Professor of Philosophy at the University of Pennsylvania. At Penn, she is a faculty affiliate of the Center for Technology, Innovation and Competition, the Warren Center for Network & Data Sciences and a Senior Fellow of the Leonard Davis Institute for Health Economics. A graduate of Harvard Law School with a PhD in Philosophy from the University of Michigan, Allen is an expert on privacy and data protection law, bioethics and public philosophy. She holds an honorary doctorate from Tilburg University, Netherlands. In 2019 Allen was President of the Eastern Division of the American Philosophical Association. In 2021, she was awarded the Quinn Prize for service to philosophy and philosophers. In 2022, she was given the Founders Award for service to Bioethics by the Hastings Center and the Privacy Award of the Berkeley Center for Law and Technology. She is an elected member of the American Law Institute, the American Philosophical Society, the National Academy of Medicine and the American Academy of Arts and Sciences. Anita Allen served under President Obama as a member of the National Commission for the Study of Bioethical Issues, and she currently serves on the boards of the National Constitution Center, the Electronic Privacy Information Center and the Future of Privacy Forum. She has lectured on privacy in Canada, Europe, Japan, Taiwan and Israel; published five books and over 120 scholarly articles; contributed to and been featured in popular newspapers, magazines, podcasts and blogs; and appeared on numerous television and radio programs. In 2024, she will give the H.L. A. Hart Memorial Lecture at the University of Oxford.
Post by: Noah Stevens, Green College Resident Member