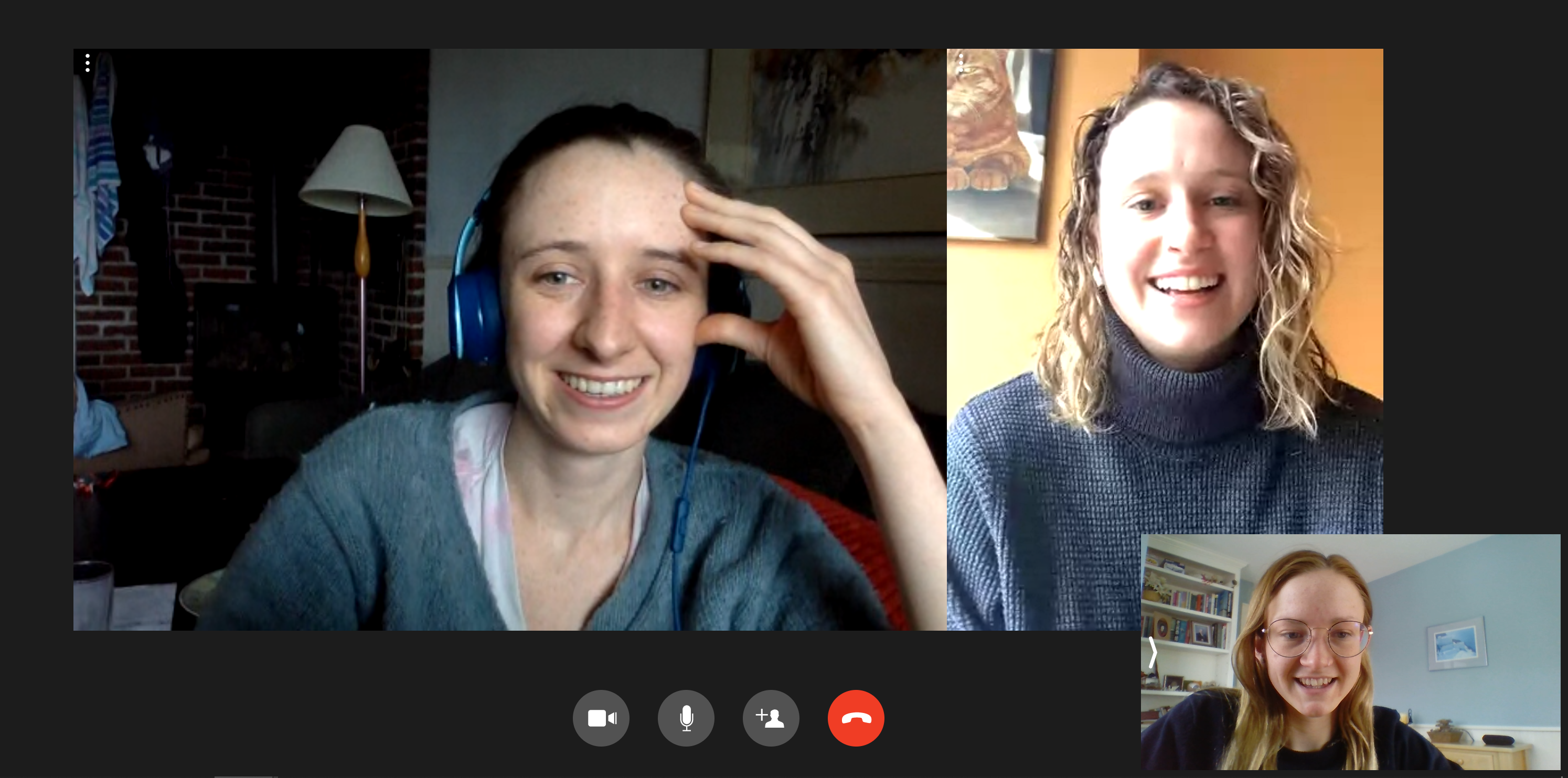 Green College Staff
Introducing the Green College Radio
As the world goes virtual in response to the COVID-19 pandemic, Green College's social committee was determined to keep the social life of the college thriving. During this period of very restricted social interaction, co-chairs of the social committee, Hannah and Bronwyn, saw that their roles in the community were now even more important than ever.
[Figure 1: A virtual interview with GC's social committee co-chairs, Bronwyn and Hannah]
So, how do you keep the Green College community spirit alive during the COVID-19 crisis? Their answer was to introduce to the college a daily 'radio' show, hosted by them, with 'shows' by any fellow Greenies who wish to offer some entertainment and chat to their socially distant friends.
The idea behind the show was that it would provide a way for those Greenies who have stayed in college to keep in touch with each other, as well as with those who have gone home. And it has! People join in from all over the country as well as from abroad. As well as this, it provides a space for important information and community topics to be shared and discussed, and offers a sense of routine and stability in an otherwise changeable time. It provides a new space for the usual Green College events such as the Resident Members' Series, which has been continuing to run, online, on Monday evenings.
But it also offers so much more than just a continuation of what we had before lockdown. It has brought to the community a new platform for Greenies to get to know each other on, and to express themselves and their interests on. For hosts Hannah and Bronwyn, one of their favourite outcomes of the radio is that they already feel they know people better! "Seeing everyone's faces warms my heart," says Bronwyn.
The radio has been a popular addition to community life. The conversations are sometimes goofy and sometimes intellectual, sometimes the slots are pre-planned and sometimes organically grown in the moment. The forum continues to offer a supportive and caring environment for Greenies to be a part of, wherever they are in the world.
[Figure 2: Cheers! Greenies share happy stories and a drink during the GC Radio 'Happy Hour']
by: Mairi Stirling Hill, Department of English Language and Literature, UBC @MairiJSHill