Green College Staff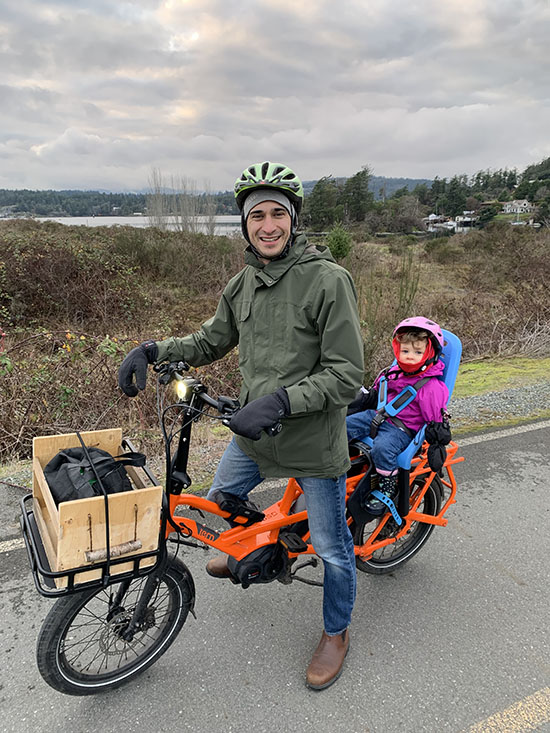 Tim Shah and daughter Eden
Tim Shah lived at Green College from 2010 to 2012 while he completed his Master's in the School of Community and Regional Planning. Since graduating from UBC, he has been working as urban transportation planner; some of his most rewarding work has been helping communities across British Columbia and Alberta develop and implement policies to support greater transportation choices with the goal of ultimately achieving their climate targets and reducing their traffic / parking congestion. Tim is a Registered Professional Planner in BC and a Member of the Canadian Institute of Planners (CIP) where he is active, most recently as Co-Chair of the Editorial Committee of CIP Plan Canada, which is the national magazine for planning in Canada.
Tim lives in Victoria BC with his wife and fellow Green College Society Member, Celia Culley, and their daughter Eden (22 months old). They routinely find themselves on adventures on their electric bicycle, embracing a car-less lifestyle and enjoying many of Victoria's natural assets.
Tim writes from Victoria, BC:
"My passion has always been to build more vibrant and active communities in both my personal and professional life. Green College was a very special and intimate community for two years of my life that gave me an appreciation for how community can truly enrich one's existence—whether it's developing friendships, or simply chatting with a fellow member in a completely different discipline to brainstorm and try to solve the world's problems. I still recall conversations I had, often over meals in the dining hall or in the Common Kitchen on the weekend, with members studying a variety of disciplines—social psychology, pharmacy, public health, law, economics, civil engineering, and urban agriculture. These conversations have shaped my outlook as an urban planner today. They have influenced how I approach planning problems I encounter on a routine basis, such as the psychology of travel behaviour and how to design policy options to get people out of their cars, promoting the health benefits of active transportation, and highlighting why a more localized food system benefits our communities and our world.
Serving as the Chair of the Residents' Council taught me how to effectively facilitate decision-making and find consensus on—sometimes—very thorny issues with a group of highly motivated, smart and opinionated people, an experience that has served me well in the profession today when navigating challenges with the community and decision-makers and trying to find common ground on topics such as protected bike lanes!
Beyond the abundance of new ideas and thoughts to which Green College exposed me, I developed strong friendships with members like Marc Schutzbank, one of my best friends to this day, and my now wife Celia Culley, a clinical pharmacist and fellow sports enthusiast who loves the College just as much as I do. Green will always be near and dear to my heart and I am excited to see the next generation of Greenies tackle our world's most pressing challenges."
This is an excerpt from the 2018-19 Green College Annual Report. View a copy of the full report here: https://greencollege.ubc.ca/sites/greencollege.ubc.ca/files/2018-19_GCAnnualReport%20WEB_0.pdf