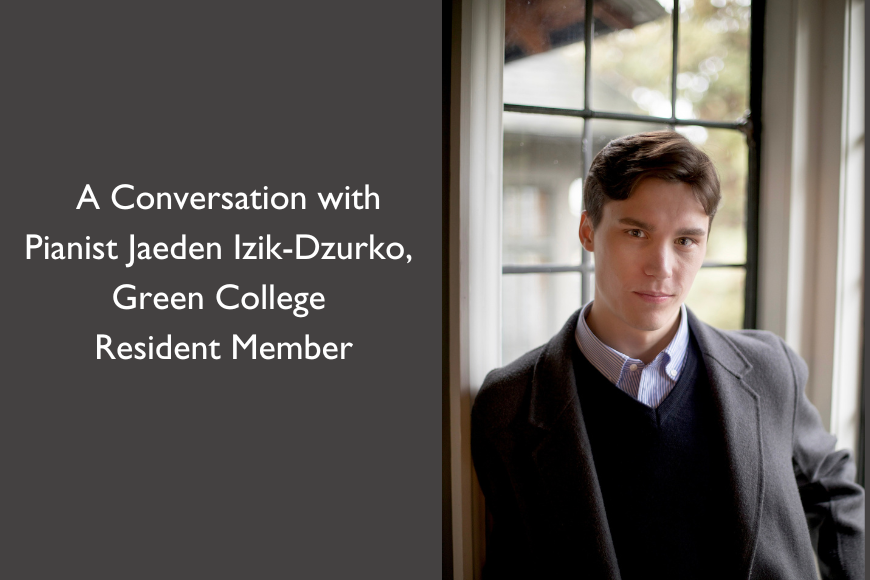 Green College Staff
Jaeden Izik-Dzurko is an emerging BC-born pianist and Green College Resident Member. He is the First Prize winner at the 2022 Hilton Head International Piano Competition, the 2022 Maria Canals International Music Competition and the 20th Paloma O'Shea Santander International Piano Competition. In late March, he took time out of his schedule to sit down with Green College Resident Member Noah Stevens to talk about his life as a pianist and his time at Green.
---
How did you get started playing the piano?
Both of my parents were pianists in their youth, and my dad went on to study music in university. He still teaches piano privately and teaches band and choir in public school. When I was growing up, I heard a lot of piano at home. It was a very musical upbringing. My dad played in bands and sang in choirs, and he was my first piano teacher.
Do you only play as a solo artist or do you play ensemble as well?
A lot of pianists lament the fact that we aren't an orchestral instrument so we don't have the same kind of ensemble playing possibilities. But I have been lucky enough to play in some chamber music ensembles. Most recently, I performed with the wonderful Cuarteto Casals in Vancouver's Friends of Chamber Music concert series. I also enjoy performing as a soloist with orchestras.
What is the UBC Music program like? What is the balance between performance and study?
I am lucky enough to have a lot of practice time in my timetable. My degree is in piano performance, as opposed to conducting or collaborative piano. It's a great program. My instructor, Dr. Corey [Hamm], was my piano teacher before my undergraduate studies so I know him very well. And the facilities at UBC—Roy Barnett Hall and the Chan Centre—are both beautiful spaces. And of course, the campus is amazing. I did my undergraduate degree at The Juilliard School in New York, which is located right in the middle of the Upper West Side, so this is my first time studying in such lovely natural surroundings.
Have you been able to play at the Chan Centre much?
Only once. I was lucky enough to play my Graduation Recital there in March because there was a piano duo, Anderson and Roe, playing a concert as part of the Chan Centre series and the grand piano from the music school was moved there. The head of the Chan offered me the opportunity to use the space for my recital. That was a real privilege. And I was fortunate enough to win the school's concerto competition this year, so I will get to perform alongside the UBC Symphony Orchestra there again next October.
Recently, you were in Madrid and Barcelona for competitions and you travel a lot to perform. How do you find balancing travel with your studies?
It's been a challenge especially this year to balance the requirements with the traveling, but the department is very understanding. I took certain measures to make it easier. For instance, I'm doing an independent study research project for some of my credit so I can do that work on the road. Being at Green though, it's so nice to come back here after a trip. I know if I arrive early enough I can look forward to a great sunset! It's a lovely place to be based during all this traveling.
You won first prize at the 2022 Hilton Head International Piano Competition, as well as at the 2022 Maria Canals International Music Competition. Are there any contests or concerts that really stick out to you as ones you really enjoyed or felt particularly proud of?
Those were definitely huge milestones for my own life. I didn't have nearly as many performance opportunities before having won those contests as I do now. So they were instrumental in my career. In terms of concerts, this past December, in honour of the 150th anniversary of the birth of the Russian composer, Alexander Scriabin, I presented his complete piano sonatas; he wrote ten of them throughout his life. It's about two hours and twenty minutes of music in total so it was a big undertaking. Scriabin undergoes significant creative transformation during his life. He starts out idolizing Chopin with a very romantic, nineteenth century style and then gradually he becomes more modernist and mystically inclined. So you can really witness that stylistic change in real time when listening to all the sonatas. I played that at UBC and I rented the lighting system to enhance the mood. That was a real highlight. I was lucky to be at UBC and to have access to the concert hall. That's not something you can do at all music schools.
How difficult was it to play a concert of that length, with music from a composer who undergoes that shift? Is it harder mentally or physically?
It's challenging music, especially towards the end. It becomes very elusive and difficult to understand. I'm not sure if it's the most practical of concert programs. Two hours and twenty minutes is a lot for a single evening so I did two intermissions. In his earlier period, he's more tempestuous and outwardly emotional, and later he becomes more impressionistic. So physically speaking, it actually gets easier as it progresses, but the harmonic language becomes more complex. It does become mentally more challenging and in terms of memory too, it's trickier to keep retained in your head. There is a physical component, but it's mostly concentration. That's the challenge.
I wanted to ask you about the piece you wrote at Green, which we got the chance to hear at the Coffee House. How did you come to write that piece?
It's just a short prelude but it was definitely inspired by the beauty of the space when I first moved here. I was really amazed by it. I don't have much time to compose anymore these days, but I have played that piece as an encore here and there. And I enjoyed playing it in the coffee house for Green College residents. It was definitely inspired by the surroundings.
What parts of Green were you trying to bring out in the piece?
I'm not sure if I really took direct inspiration as if I was imitating waves or birds or something specific. It was more of a feeling. There are a lot of lush harmonies and sonorities and I would equate that to the beautiful colours that you get on an evening like tonight between the sky and the trees and the water.
Are there any other pieces you feel a strong connection to? And what builds that connection?
I would say Rachmaninoff's third Piano Concerto comes to mind. It's one of the most difficult in the repertoire. That was the piece I played in the finals of those competitions [Hilton Head and Maria Canals]. I owe a lot of my success to that wonderful music.
How many songs do you usually get to play in those competitions?
It varies but, for example, in the last one I did, the first round was about a 50-minute program and then the second round consisted of a 60-minute solo recital and a chamber music performance. Then the final round was a concerto with orchestra. They can become more demanding than that, asking for two concertos, for example. You have to go in with at least about three and a half hours of music prepared to perform.
How do you select the music you want to perform?
I try to show off different sides of my personality and artistic tastes. Programming can be a difficult process because you're often constrained by time limits and certain repertoire requirements. For example, the Maria Canals contest in Barcelona had requirements to play a Catalan composer, a piece composed after 1950 and a work by a female composer. So it entails some research, finding pieces that speak to you that also fit those parameters and fit within the time constraints.
What would you say is your personality as a performer?
I find myself very connected to early twenthieth century Russian music, hence my love of Scriabin and Rachmaninoff. That era in particular is a perfect convergence of great composers who also happen to be amazing pianists in their own right. There's a very rigorous and disciplined Russian piano school, which produces unbelievable instrumentalists. When you combine that with great compositional vision, then you get beautiful musical content that's also exploiting the instrument for all of its capabilities. I think that's especially the case with Rachmaninoff. He was a great virtuoso on top of being a great composer.
Does your research focus on that era?
The Scriabin concert I did was associated with the independent research project that I undertook. I'm doing research into Scriabin's own philosophy and how it influenced his music. Early in his life, he was enamoured with Nietzsche's philosophy, in particular his notion of Dionysian ecstasy. He wrote several works inspired by this concept, including his fourth Symphony, entitled "Poem of Ecstasy." Often there's an interpretive direction in his scores to play something in an ecstatic manner. That's my focus of research: where does he converge with Nietzsche? And how did his notion of ecstasy influence his music?
Do you find it aids your performance to have done that research?
I'm not sure if it does on a purely musical level. It's more intellectual. It piques your interest and it gives you a deeper understanding of the surrounding context of the work. But I feel like musical ability is more of an intuitive thing. I don't think you necessarily have to be well read to be a great musician.
How have you enjoyed your time at Green so far?
It's inspiring for me to hear what everyone's studying and the kind of intellectual discussions that people have. Even though there is an intellectual component to music, I think that a lot of the work I do is manual or technical and so I'm really in awe of the mental endurance and discipline that so many of the students here have. Especially coming from Juilliard, which is specifically a performing arts school, it's great to be exposed to a much wider scope of knowledge. That's definitely an inspiration. And of course, the Piano Lounge is such a blessing for me. I love practicing in this space. In the evenings, you get a nice sunset and in the mornings, the sun comes through the sides or the windows, it's very beautiful.
How is the Green piano?
It's old so it has the predictable things that an old instrument has. The tone can waver over time and the hammers wear but it's a very solid instrument and it has a lovely touch. Older keys definitely have a different feel than modern ones. Modern pianos sometimes feel more like plastic, a little smoother. These ones have a nice wood texture.
What do you see as your next steps in music after graduation?
I've applied to a couple of schools, but my performing schedule is busy enough that I may take a gap semester or a gap year. As far as my long-term music career is concerned, I think I may ultimately have to try for another, bigger competition if I want to keep up this performing routine. That's obviously no guarantee. In competitions, there are all kinds of variables at play. I think overall, I want to gain as much performance experience as I can and maybe down the road apply for a PhD. I would definitely like to further my studies.
Do you have anything else you'd like to add?
Just that I'm really grateful to have spent these last two years at Green. Having the piano there, the beautiful atmosphere and the wonderful community definitely contributed to my ability to succeed in these competitions. I feel grateful to have been a resident.
Jaeden will be performing two concerts in Vancouver in 2023. On September 10th, he will be performing a solo recital for the Vancouver Recital Society at the Vancouver Playhouse and October 27th is the date of his aforementioned performance with the UBC Symphony Orchestra at the Chan Centre.
---
You can learn more about Jaeden Izik-Dzurko and his work on his website.
Post by: Noah Stevens, Green College Resident Member