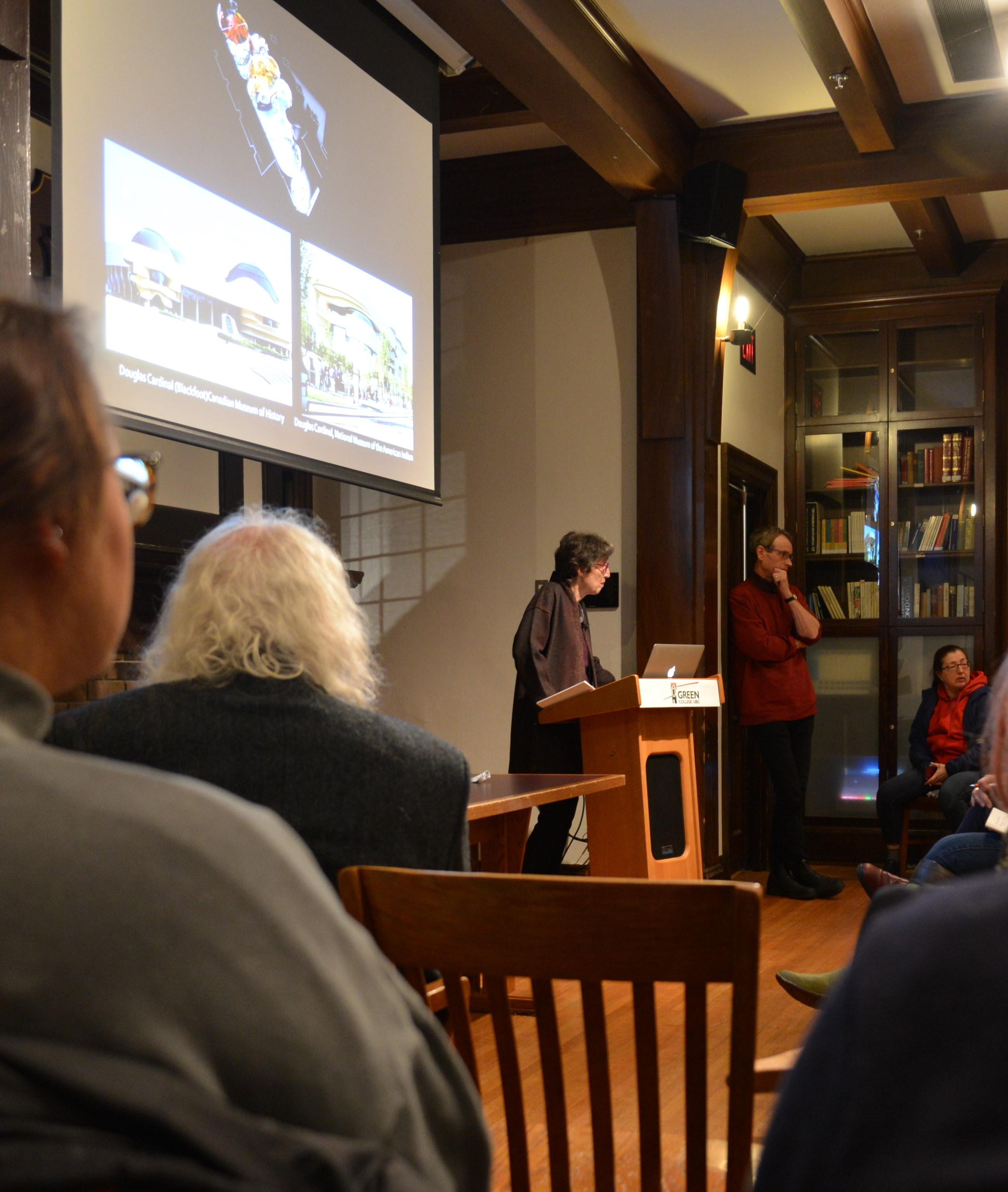 Green College Staff
In February, art historian Ruth Phillips visited Green College from Carleton University. The former director of the Museum of Anthropology (MOA), located next door to the college, she opened her talk with a painting by Cree artist Kent Monkman called The Scream. The painting, which you can view here, depicts RCMP officers forcibly removing Indigenous children from their families and homes to be placed in residential schools.
Art and its relation to the residential schools is what Ruth Phillips continued to discuss, exploring the dynamics of oppression and healing as visualised through two shapes: the circle and the rectangle.
These two shapes are central motifs in much of the artwork done by Indigenous artists confronting the trauma of their childhood years in state-run residential schools. Ruth Phillips described these two shapes as representational of the radical architectural shift that young First Nations peoples were forced to experience as they moved from their homes into residential schools. A permanent exhibition at Calgary's Glenbow Museum, Niitsitapiisinni: Our Way of Life, offers its own visual representation of this dynamic shift. The visitor starts in a circular space, timber beams forming a central axis, representing the inside of a tipi. Moving through the exhibition there is a sudden and visceral shift when the visitor enters the claustrophobic rigidity of the rectangular residential school.
This is just one example of this circle to rectangle dynamic. Ruth Phillips shared more exhibitions and artwork from Indigenous artists such as Adrian Stimson, member of the Siksika (Blackfoot) Nation), whose work Sick and Tired (2004), has a curved corpse-like figure placed within a rectangular room of rectangular windows and upon a rusted rectangular bed-frame.
For Alex Janvier, Denesuline, from the Cold Lake First Nations, art class was the only haven from the otherwise constant fear he felt during his time in an Albertan residential school. Gina Laing, too, described her art classes as critical to her survival, and the way that she found her voice. You can listen to her here.
Art, and artistic expression, was and remains vitally important for survivors of residential schools. It is a way of articulating memories that cannot easily be narrated, but need to be remembered. Ruth Phillips talked of Robert Houle, Saulteaux First Nations, and his Sandy Bay Residential School Series (2009) which he described as a kind of exorcism, essential for his own reconciliation with the past as well as for national reconciliation.
Kent Monkman's Shame and Prejudice: A Story of Resilience, a retelling of Canadian history from an Indigenous perspective, is coming to the MOA in October 2020.
Mairi Stirling Hill
Department of English Language and Literature, UBC